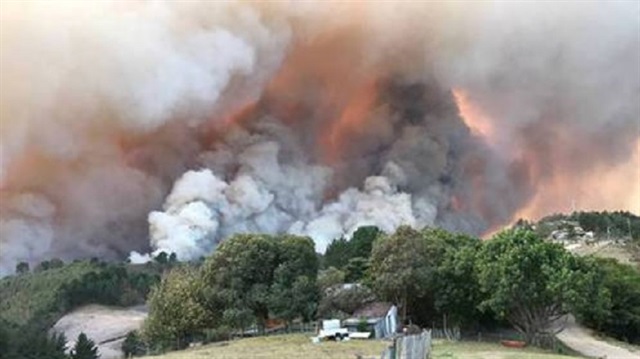 Fires burn at Buffelsvermaak farm near Knysna, South Africa
The death toll in South Africa's raging storms that hit the Western Cape region has reached nine, and thousands have been displaced from their homes, officials said Thursday.
In a televised media briefing, Western Cape local government official said the body of another person was found Thursday, bringing the total of those killed to nine.
Eight people were killed Wednesday, including a family of four who died after their home caught fire caused by lightning.
"We have lost nearly 250 structures in Knysna and evacuated between 7,000-8,000 people," Colin Deiner, chief director of the Disaster Management center, told reporters about the resort town of some 77,000.
He said it was unclear how the fires started in the popular tourist town, known for its coastal scenery and oysters.
However, experts believe the blaze was caused by strong winds caused by the ongoing storm in Cape Town, 500 kilometers west.
A strong storm hit parts of the southern Cape Peninsula on Tuesday night, destroying homes and breaking trees.
Late Tuesday South Africa's weather service had forecast hail, snowfall and gale-force winds exceeding 90 kilometers an hour in parts of the Western Cape Province.
The cold weather is expected to continue throughout the week, according to the weather service, but the storm will subside by Friday evening.
Bongikosi Madikizela, Western Cape's Human Settlements Minister, said thousands of displaced people were being housed in community centers.
"We will make sure all those displaced are resettled properly after the storm," he told reporters.
6 years ago