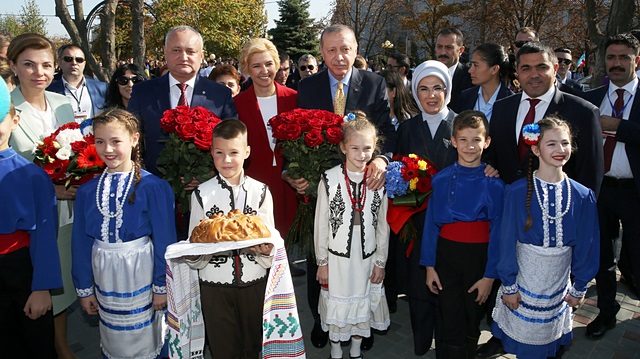 Turkish President Recep Tayyip Erdoğan said on Thursday that he reached an agreement with his Moldovan counterpart to take "tangible" measures for the proper implementation of Gagauz autonomy.
In December 1994, Moldova's parliament offered some 160,000 Turkic Gagauz people within their borders a large degree of autonomy in order to create a favorable environment for maintaining a national identity and culture.
The autonomous territory is home to a mostly Gagauz population -- an Orthodox Christian, Turkic community.
Moldova's territorial integrity is of "crucial importance" for Turkey, Erdoğan added.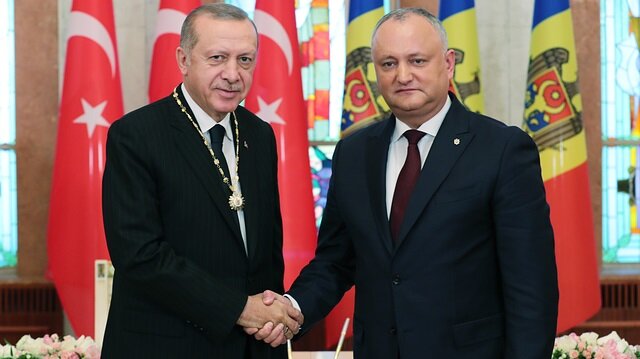 Erdoğan praised relations with Moldovan people and Gagauz Turks during his visit to capital Comrat.
In his address to the Gagauz Turks, Erdoğan said: "We will resolutely continue to be a true friend to the people of Moldova and Gagauz Turks."
Erdoğan dubbed Moldova as a "neighbor country" to Turkey, regardless of geographical location.
The Turkish president paid an official two-day visit to Moldova, where he met Moldovan President Igor Dodon and Prime Minister Pavel Filip.
He also met Autonomous Territorial Unit of Gagauzia (Gagauz-Gokoguz Yeri) President Irina Vlah.