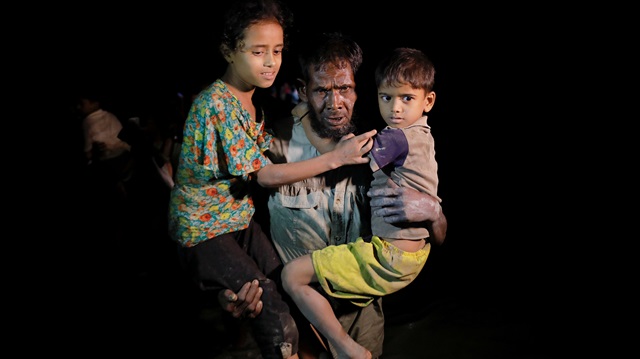 An unknown number of people are internally displaced, while hundreds of thousands lack food, shelter and medical services
Myanmar is getting ready to "verify" refugees who want to return, the government minister charged with putting into effect recommendations to solve problems in Rakhine said.
Myanmar would conduct a "national verification process" at two points on its border with Bangladesh under terms agreed during a repatriation effort in 1993, state media quoted Win Myat Aye, the minister for social welfare, relief and resettlement, as saying.
"After the verification process, the refugees will be settled in Dargyizar village," the minister said, referring to a Rohingya village that was razed after Aug. 25, according to satellite imagery.
It is unclear how many refugees would be willing to return.
Previous government efforts to verify the status of Muslims in Rakhine were broadly rejected as under the process, Muslims would not be recognised as Rohingya, an ethnic identity they prefer but which Myanmar does not recognise.
Most Rohingya are stateless and regarded as illegal immigrants from Bangladesh.
"As we're Muslim, the government hates us. They don't want our Rohingya community," said refugee Zafar Alam, 55, sheltering from the rain under an umbrella near the Balukhali settlement in Bangladesh.
"I don't think I'd be safe there. There's no justice."
The government would take control of fire-gutted land, Win Myat Aye said this week. Rights groups say about half of more than 400 Rohingya villages were torched.
Officials have announced plans for resettlement camps for the displaced, while U.N. officials and diplomats are urging the government to let people rebuild homes.
6 yıl önce