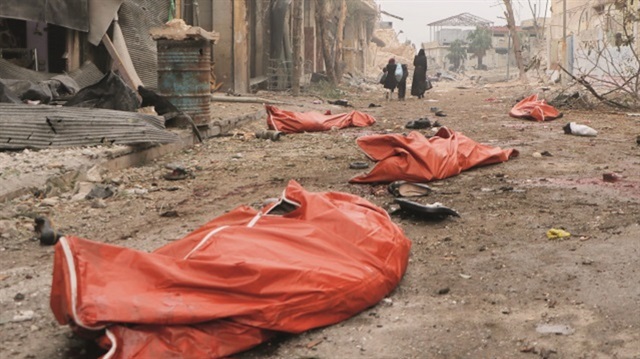 The severity of bloodshed and destruction in Aleppo's opposition-held eastern district has deteriorated the living conditions so extensively over the last couple of weeks that it left the once thriving city vulnerable to a massive massacre, which has been carried out at the bloody hands of Assad and his allies, particularly Russia, PYD and Shiite militias.
The Syrian regime, with the help of its ally's forces' air strikes and Iran's, Iraq's and Hezbollah's bombardment from the ground, is ruthlessly continuing the bloodshed of civilians in Aleppo, exacerbating the living conditions for those 300,000 who chose to stay.
The civilians escaping from the bombs are often targeted intentionally, while activists and journalists are struggling to take photos and footages of the bloodbath.
Streets are covered with victims' bodies
Ebu Ammar, one of the local activists in the city, said, ''Due to the intense Russian and regime bombardment, the streets of the city are full of victims' bodies. The strikes are so intense that we are refraining from going outside, because in case we die, our bodies are left outside. The bombarded streets smell of blood in Aleppo.''
Noting that due to eastern Aleppo being constantly bombarded, they are toiling to reach the scenes, Babiris Michel, a civil defense officer in Aleppo, said, ''Assad forces shelled civilians that were running and fired mortars on them in Jubb al-Qubbah. As a result, mostly women and children -- 45 people -- lost their lives and many more were wounded.''
''The street on which the civilians were bombarded is full of dead bodies, most of which even cannot be identified,'' he added.
Underlining that the humanitarian plight in Aleppo is getting worse and worse every single day, he added, ''People are hungry and thirsty, they had run out of food. Bakeries remain closed due to strikes.''
Over 730 people killed since Nov. 15 in Aleppo
Meanwhile, the regime forces advancing towards southeastern Aleppo were repelled by opposition forces.
In the Sheik Said district, 30 regime soldiers were killed and 4 militias, including one Afghan, were captured.
On the one hand, the regime and its allies have gained ground following their intense assault on Monday and captured Sahur Sheik Faris and Sheik Khidir districts, opposition forces. On the other, they had to give up Mesekin Hananu, Cebel Bdro Baidin, Ayn Tal and Ard Hamra districts, by the way.
Aleppo, the second largest city of Syria after Damascus, lies 40 km away from the Turkish border and its eastern central district is controlled by the opposition.
It's estimated that 300,000 people are trapped in east Aleppo under the siege of the regime, while civilian casualties have escalated to over 3,000 with 739 deaths and around 2,500 wounded since Nov. 15.
According to Aleppo's local health authority, the people's food supplies have already been completely depleted and they have not even been able to meet their basic needs of shelter, warm clothing, water and toilet facilities in the past 97 days.
قبل٪ s