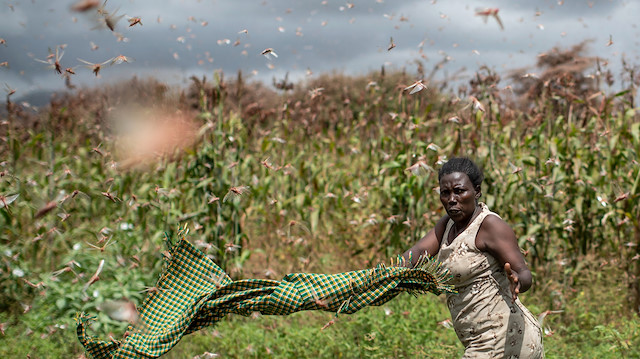 Isabel Mberia points to maize plants on her farm in Tigania in eastern Kenya's Meru county.
The early morning air is filled with a muffled, buzzing cracking sound.
Instead of the usual green that one expects to see, her plants are filled with the yellow-brownish color of locusts that are munching on leaves and cobs of the growing maize.
"When Kenya was hit by locusts last year, we were spared. They didn't reach here, but this year-round we woke up one morning and one could barely see the sun," Mberia, 61, told Anadolu Agency. "There were millions of locusts everywhere. Some people in the market said they were just migrating but they are still here eating everything."
Her prized mango trees, among others on her farm, are filled with locusts. The tiny ancient critters that have been a nightmare for farmers since time immemorial are munching on flowers, fruits, seeds, leaves and even the bark of trees.
"There is not much we can do about them. We try to chase them away but they are too many," said Mberia. "We have never had a food problem here. Together with my husband, for over 40 years in farming, we have never witnessed anything like this. This is the worst plague that we have ever seen. Now food is very expensive because all our food is being eaten."
-Biblical plague
Farmer Anne Kagendo, 48, is also counting losses and lamenting that the locust invasion has caused a food shortage.
"They have eaten tomatoes, potatoes, maize, a variety of beans, even cotton … who knew locusts eat cotton … even my neighbor's wheat and bananas have been eaten," she said. "This is definitely a biblical plague. I have never seen anything like this, they are merciless and hungry all the time."
Thousands of farmers in Meru county are counting huge losses as desert locusts ravage farms daily. The locusts come at a time when most of the produce grown in eastern Kenya is ready to harvest.
Farmers in Meru are among hundreds of thousands from 14 other counties from the 47 that make up Kenya, who are affected by a second wave of the locust plague that is two times deadlier than the one that hit Kenya in 2020.
The government said it deployed spray and surveillance aircraft to help deal with the pest and noted it has enough resources and is better prepared than in 2020 to fight.
Government spokesman Cyrus Oguna encouraged collaborative efforts with Ethiopia and Somalia, from where locusts migrated to Kenya, to eradicate the pests.
"If Kenyans are actively containing or combating locusts, it may not amount to much if the neighbouring countries are not doing the same," he said in a statement.
Agriculture Minister Peter Munya told reporters that more than 75 swarms have been reported in Kenya.
"We cannot fight locusts in Somalia and Ethiopia where they are thriving. All we can do is fight them in Kenya, as they breed in Kenya, it should be noted that the war against locusts might last until June," he said.
Armed with a budget estimate of 3.2 billion shillings, or $30 million, set aside to combat the second wave, Munya said Kenya is well-equipped to fight the swarms and promised that in counties where livelihoods have been affected, the government will step in and offer crop and livestock intervention which include distribution of seeds and cereals, clean water and fertilizers among others.
The desert locust is considered the most destructive migratory pest in the world, according to the UN Food and Agriculture Organization (FAO).
A single swarm covering one square kilometer, a little more than one-half mile, contains up to 80 million locusts and can eat the same amount of food in one day as about 35,000 people. Locust numbers increase 20 times in three months with every new generation.
-Food shortage
At the Mulika market in Tigania, residents lament that even though the government has assured that everything will be okay, a food shortage is already being witnessed.
"The prices of foodstuff, especially our staples … mostly vegetables, have gone up by three or even four times," said Kagwiria Juliet.
She noted that residents are now resorting to eating a lot of cereals that have been dried and preserved.
But the poultry business has experienced a boom.
"Our business is doing very well because locusts are a good food source for poultry," said trader Timothy Munya. "The birds love locusts. We are not sure whether we can keep up with the demand and many people are opting for things like chicken as they are cheaper."
The East African desert locust intensity has also been blamed on climate change with a focus on Cyclone Gati that hit Somalia's coast on the Indian Ocean in November last year, said the FAO.
East Africa's food basket regions received copious rainfall during the summer, promising farmers a good yield and giving nomadic pastoralists abundant grazing land.
But the downpours also provided fodder for locust swarms that originated in Yemen, moved to Somalia and spread across East Africa.
Etienne Peterschmitt from the UN said in a statement: "Rains and winds are two of the most favourable conditions for desert locusts to multiply rapidly and spread to areas where they had been under control."
In Kenya, where locusts have torn through more than a quarter of counties across the country, farmers and nomadic pastoralists have been left devastated.