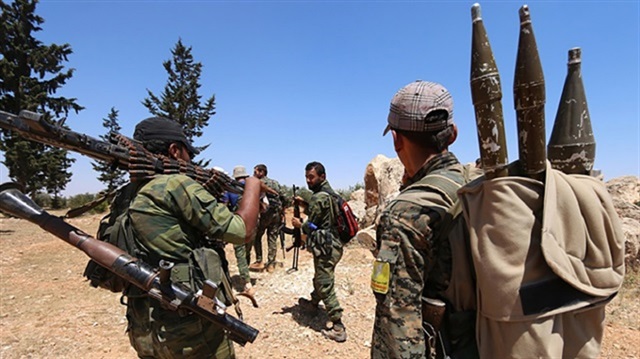 As many as a hundred fighters of Liwa et Tahrir group under the Syrian Democratic Forces (SDG) have refused to fight against Turkish soldiers and surrendered to them at the Turkish border over the SDG's pressure on fighters to attack the Turkish military in northern Syria.
The move of a group of Arab fighters came after the Kurdistan Workers' Party affiliated Democratic Union Party (PKK/PYD) terrorists started to wear SDG uniforms amid the ongoing fight against the Turkish military, which conducted the Euphrates Shield operation, aiming to clear the terrorist elements from northern Syria by supporting Free Syrian Army (FSA) soldiers.
As Arab fighters refused to wear the same uniform with PKK/PYD terrorists and fight against Turkish soldiers; they fled al-Hasakah province following the tension within the group.
"We are fighting against the Syrian regime of Bashar al-Assad. We don't and won't fight against Turkey. No one can provoke us against Turkey," they said.
After the Arab group made its decision, the PKK/PYD terrorists started to make preparations for besieging a number of Arab villages in northern Syria.
Previously, another subgroup of Ahrar al-Raqqa is known to have left SDG after clash with the PKK terrorists in Tell Abyad which was handed over to PKK/PYD terrorists by Daesh terrorists.
'Front group' to justify PKK/PYD activities
Syrian Democratic Forces (SDG) was a 'front group' to justify the PKK/PYD and the U.S.' support to the terrorists by fabricating different groups such as the Syriac Military Council, Liva et Tahrir, Euphrates Volcano, Shams al-Shamal, Liwa Al-Selcuki, Al Jazeera Brigades and Al-Sanadid Forces.
Around 80 percentage of SDG is known to be composed of PKK/PYD terrorists, while only a small number of fighters are Turkmen and Arabs.
Al-Sanadid Forces, one of the groups composing SDG, is known to be formed by the sub groups which fought for the Assad regime for four years, while Liwa Al-Selcuki doesn't contain any Turkmen fighters despite being introduced as the representative of the Turkmen groups.