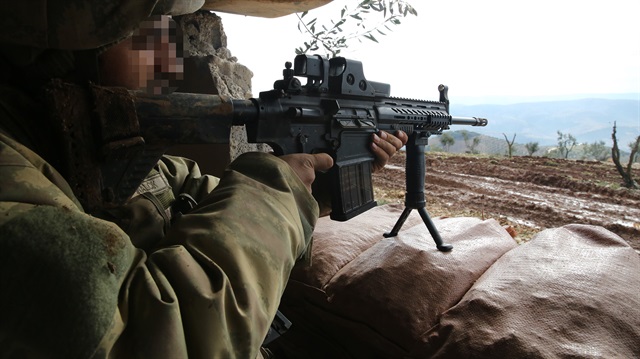 The Turkish Armed Forces (TAF) and Free Syrian Army (FSA) are continuing to advance into Afrin as part of Operation Olive Branch. The units have come within 14 kilometers of Afrin, which is under Kurdistan Workers' Party (PKK)/Democratic Union Party (PYD) occupation. Despite unfavorable weather conditions, Operation Olive Branch is advancing as planned.
PKK/PYD setting up traps to hinder operation
So far, 21 areas – among them 15 villages, a settlement and five strategic mountains and hills located around Afrin – have been liberated from the terror group.
Many positions set up by the terrorist organization around Mount Bursaya, Rajo and Jinderes have been captured. TAF and FSA forces advancing toward Afrin are staving the PKK/PYD's countryside formation. The terrorist organization is attempting to stop the TAF and FSA forces with mines, tunnels and snipers. PKK's so-called leaders are gradually transferring field members to settlement units.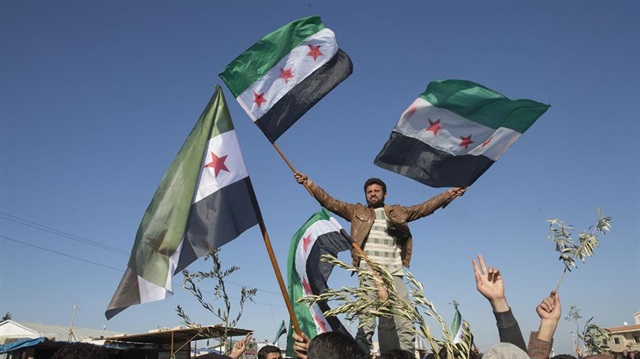 New front imminent
The establishment of a new front by TAF and FSA forces is imminent. The TAF is bombing PKK positions along the Ayn Dekna, Tell Rifaat and Ebla front. Matar Minnag, Ayn Dekna and Tell Rifaat, which are located on a 60-kilometer line extending from Afrin to the Sheale village, was struck overnight. It is also being planned to close the escape routes on the eastern line where there are 1,600 PKK/PYD terrorists.
Futile infiltration tactic
The PKK/PYD, which has suffered great losses on all fronts, has implemented infiltration tactics in Rajo, Bulbul, Jinderes, Bursaya and Mare over the past two days. On Sunday, six PKK terrorists were captured while attempting infiltration and many others were killed.
Plan to attack TAF bases
PKK leaders are ordering terrorists to "give priority to infiltrating TAF bases." Drugs are provided to the terrorists participating in the sabotage-infiltration activities targeting Turkish bases.
Tribes threatened with burning down Afrin
The PKK threatened active tribal leaders in the region to "burn down the city" after the defeat they experienced in the Afrin countryside. The terrorist organization administration threatened the leaders of tribes such as Bennavi, Umayrat, Jays and Naim, Rishan and Sheyhan to provide support for the barricades they are going to set up in Afrin, otherwise threatening to burn the entire city.
Tribal leaders ready to "stand up against the PKK"
Yeni Şafak daily interviewed Arab and Kurdish tribal representatives living in Afrin. Some tribal representatives said that they were openly blackmailed. "They want our family, including our daughters, to be PKK militants and give them our money and vehicles so they can be used in the fight against Turkey. If we receive support from Turkey, we will revolt against the PKK to protect Afrin," one tribal leader said.
Operation Olive Branch was initiated on Jan. 20 in Afrin to establish security and stability, eliminate PKK/KCK/PYD-YPG and Daesh terrorists, and save locals from their oppression and cruelty. The military said it is putting the "utmost importance" on not harming any civilians.
Afrin has been a major hideout for the PYD/PKK since July 2012, when the Assad regime in Syria left the city to the terror group without putting up a fight.
Cross-border attacks by the PYD/PKK terror group in southern Turkey started as the Turkish army operation in Syria's northwestern town of Afrin continues.
The PKK is listed as a terrorist organization by Turkey, the European Union and the United States. The PKK has been conducting armed violence in the southeastern part of Turkey since 1984. More than 40,000 people, mostly civilians, have been killed in the three-decade long conflict.