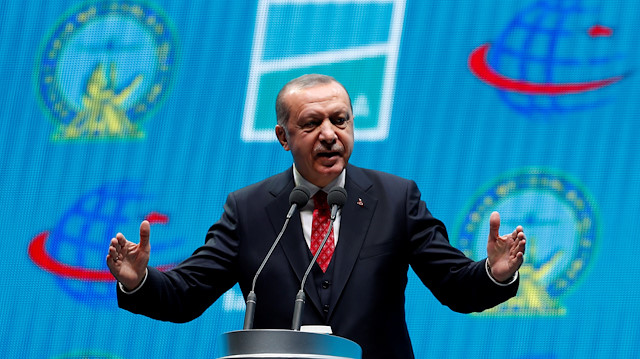 Turkish President Recep Tayyip Erdoğan on Friday said that Assad's forces are in efforts to run a psychological operation in Syria's Manbij.
Speaking to reporters in Istanbul after Friday prayers, Erdogan said Turkey's goal is to teach the YPG/PKK terror group a lesson, and Turkey is determined to make it happen.
"We are against the partitioning of Syria. Our goal is terrorist groups leaving there. If the [terrorist] groups leave, then there is no job left for us," he stressed.
The Syrian army entered Manbij on Friday for the first time in years, it said in a statement, after Kurdistan Workers' Party (PKK) terrorists urged the government of President Bashar al-Assad to protect the town from a Turkish intervention that would eradicate the terrorists from the town.
Erdoğan noted that nothing is certain yet, citing Russian officials.
He also announced that a Turkish delegation will visit Russia on Saturday to discuss Assad's moves in the region.
Turkey has no business in Syria's Manbij if YPG terrorists leave
Turkey will have nothing left to do in the Syrian town of Manbij once "terrorist organizations" leave the area, Erdoğan said.
Turkish President Recep Tayyip Erdogan has signaled that a cross-border operation against the terrorist PYD/YPG in Syria will happen soon. Since 2016, Ankara has carried out two similar military operations in northern Syria.
U.S. President Donald Trump last week made the surprise announcement that the U.S. would withdraw its troops from Syria. The decision followed Trump's phone call with Erdogan in which the two leaders agreed on the need for more effective coordination over the civil war-torn country.
On Monday, Turkish-backed Syrian opposition forces reinforced the area around the town of Manbij, which is occupied by PKK/YPG terrorists, in preparation for the U.S. withdrawal.
In June, Ankara and Washington reached an agreement that would see the YPG ousted from the town, but Turkey has repeatedly said the United States delayed.
Washington and Ankara have now agreed to complete their agreement on Manbij by the time the United States finishes its withdrawal, Turkish foreign Minister Mevlüt Çavuşoğlu said.
The PKK is listed as a terrorist organization by Turkey, the European Union and the United States. The YPG and PYD are its Syrian extensions.