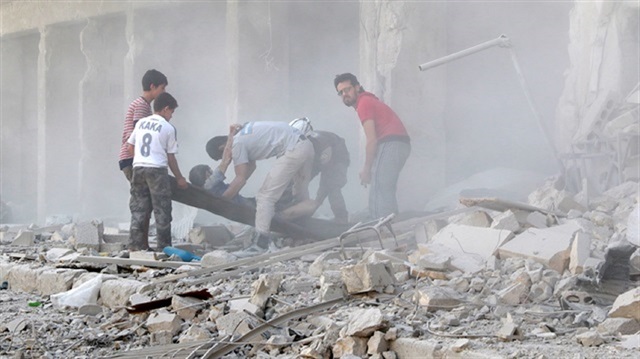 The Syrian Network for Human Rights announced that the Assad regime used no less than 244 barrel bombs in July, mostly in 'de-escalation regions'
The Bashar al-Assad regime used at least 244 barrel bombs in its attacks in "de-escalation regions" in July, Syrian Network for Human Rights (SNHR) stated.
SNHR has published its monthly report on the use of barrel bombs by the Assad regime.
The report points out that Turkey, Russia and Iran determined four de-escalation regions in the Astana meeting on May 3-4, and that the Assad regime dropped most barrel bombs in Syria's Daraa province, which is one of the de-escalation regions.
Regime drops 244 barrel bombs in July
Damascus suburbs, Suwayda and Hama follow Daraa as the most bombed areas, and no less than 224 barrel bombs were dropped in these regions, the report records.
The report outlines that the ceasefire agreement that has been reached for southern Syria between the U.S. and Russia commenced on July 9, and since then, the areas in the agreement saw a relatively noticeable decrease in killing rates; however, the Assad regime continued to violate the ceasefire.
The regime uses barrel bombs in a widespread and systematic manner, and "violates, through the crime of murder, Article 7 of Rome Statute, and commits crimes against humanity," the report states.
The report calls on the United Nations Security Council to insure "serious implementation against the regime," and states that the Resolutions have become merely words, and, thus, "the Security Council has lost all of its credibility and purpose."
Demanding an arms embargo on the Assad regime, the report also calls for prosecution of all those who supply the Assad regime with funding and weapons.
One barrel bomb costs $50 despite its huge impact
The Assad regime prefers barrel bombs due to their low cost and great destruction impact. Mostly targeting civilians with these bombs, the regime aims to maximize the loss of life. Depending on the amount of explosives filled in barrels, the bombs destroy an area spanning from 50 to 200 meters. The barrel bombs, the tossing method called "free fall principle" in military terms, forces civilians to migrate due to the harm it causes in settlements.