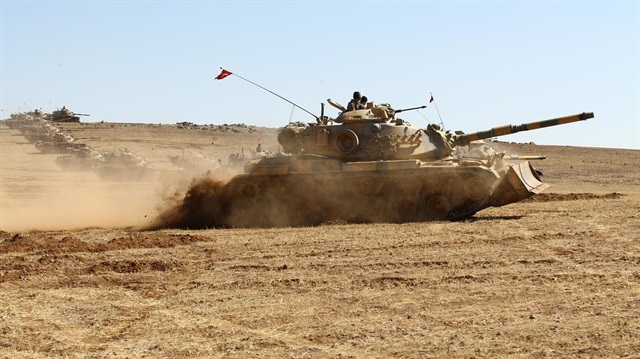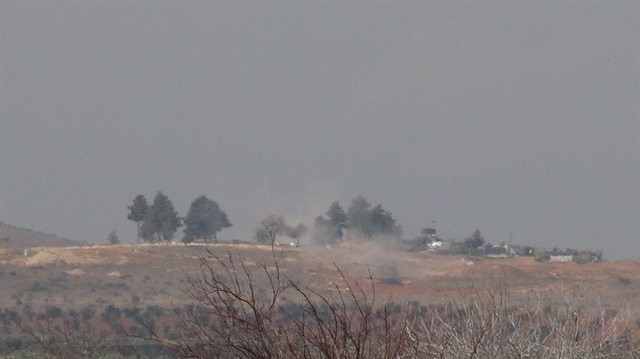 Pro-Assad terrorist group, the Democratic Union Party (PYD) in the north Syrian city of Azaz has been under heavy bombing by Turkish military on Saturday.
The Turkish attack came hours after Prime Minister Ahmet Davutoğlu announced that Turkey's military will hit PYD targets in Syria if the terrorist group violates Turkish security.
Military said it retaliated fire from the terrorist group across the border.
"Today retaliation was taken under the rules of engagement against forces that represented a threat in Azaz and the surrounding area," Prime Minister Davutoğlu confirmed.
The Azaz-Jarablous line had been declared red line by Turkish authorities and Ankara repeatedly said that any elements violating this line will be hit. The area is vital for Turkey as it is planning to establish new camps for Syrian civilians in the area and aiming to declare a safe-zone.
The PYD is a Syrian affiliate of the outlawed Kurdistan Workers' Party (PKK) terrorist organization, which has been conducting a three-decade-long armed violation in southeastern Turkey. The PKK is recognized a terrorist organization by Turkey, the EU and U.S.
Davutoğlu said both groups are terrorist organizations controlled from the same center, Qandil, the PKK's headquarters in Northern Iraq.
"The PYD is not representing Kurdish people in Syria, it kills everyone, including Arabs, Turkmens and even Kurds, who oppose their view," Davutoğlu said.
He also demanded that PYD terrorists fully withdraw from the area, otherwise Turkey will continue to hit their targets.
Turkey's shelling hits Menagh Air Base, a former Syrian Air Force facility that is now controlled by PYD militants.
According to Turkish military sources, at least 81 artillery fires conducted by the Turkish army targeted 19 PYD positions around Menagh Air Base.
Turkish fires also targeted militant positons in Malikiya and the Kishtear area of Afrin city.
At least 35 terrorist were killed and 15 others were injured in the attack.
A second blow of Turkish artillery fire has been launched after midnight which killed at least two PYD terrorists, according to a Syrian monitor group.