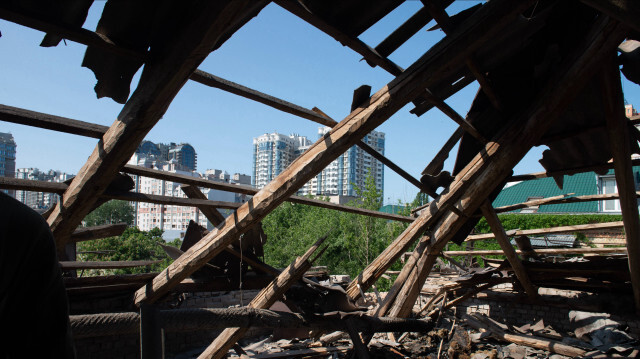 At least three people were killed and nine others injured during overnight Russian strikes in various regions of Ukraine, including the capital Kyiv, Ukrainian officials said.
"The 14th air attack on the capital since the beginning of May! Today, the enemy decided to 'congratulate' the people of Kyiv on Kyiv Day with the help of their deadly UAVs (unmanned aerial vehicles)," Serhiy Popko, head of the Kyiv City Military Administration, said in a statement on Telegram.
Popko claimed 40 Russian drones were destroyed by air defense systems, according to preliminary information, further saying that one person died and one was hospitalized due to falling debris from a drone in Kyiv's Holosiivskyi district.
Popko further said that a fire also broke out at a warehouse in the same district in an area of 1,000 square meters, injuring one person.
Elsewhere, Donetsk Governor Pavlo Kyrylenko said on Telegram that one person was killed and three others were injured due to Russian strikes in the past day.
"Two people were injured in Kurakhovo, and a private house was damaged … In the Horlivka direction, one person died in Kostiantynivka," Kyrylenko said.
Meanwhile, Kharkiv Governor Oleh Synyehubov said on Telegram that two people were killed and three were injured in the region.
"In the village of Shepuvate, a 61-year-old woman was unfortunately killed and a 60-year-old man was also injured as a result of shelling in Kupiansk district," Synyehubov said.
Synyehubov further said a 60-year-old man was killed as a result of shelling in the settlement of Dvorichna, and that two others were injured in the villages of Fyholivka and Tsyrkuny, respectively.
Also, one person was injured in the Kherson region, the region's governor Oleksandr Prokudin said on Telegram, adding that 119 people were evacuated from the region over the past day.
The Russia-Ukraine war, now in its 15th month, has killed 8,895 civilians and wounded 15,117, according to the latest UN figures.​​​​​​​​​​​​​​
4 ay önce