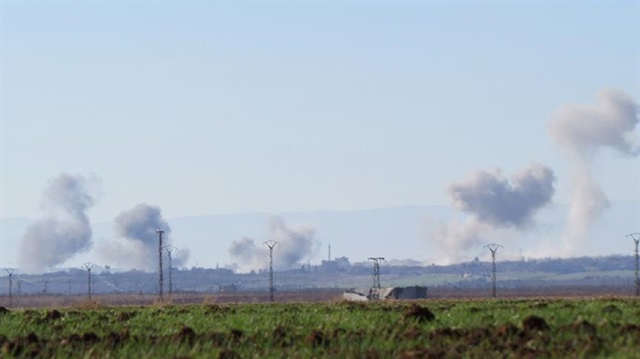 Sixteen civilians were killed Saturday in bombings by Syrian regime forces in northern Idlib province.
"A barrel bomb attack by [forces of] the Bashar Al-Assad regime on the village of Khan Assubul killed nine, and another attack on Masaran village killed seven civilians from the same family this evening," Mustafa Haj Yusuf, director in Idlib of the pro-opposition civil defense agency the White Helmets, told Anadolu Agency.
He added that Saraqib district, along with Tell Mardikh, Kafr Amim, Masaran and Khan Assubul villages, were under heavy bombing.
Earlier in the day, seven people were killed in two regime airstrikes in Idlib.
Located in northern Syria near the Turkish border, Idlib province was declared a "de-escalation zone" last year.
Controlled by anti-regime armed groups, the province has been under intense airstrikes for the last two months.
In January, 211 civilians were killed, while 1,447 were injured in the attacks.
Syria has been locked in a devastating civil war since March 2011 when the Bashar al-Assad regime cracked down on pro-democracy protests with unexpected ferocity.
While UN officials say hundreds of thousands of people have been killed in the conflict, Syrian regime officials say the death toll is closer to 10,000.