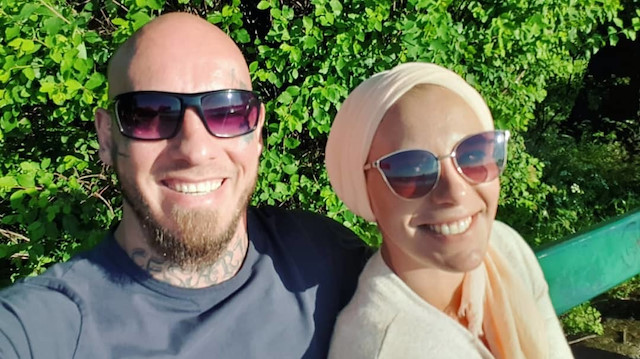 Legendary Austrian Mixed Martial Arts (MMA) fighter Wilhelm Ott said on Tuesday that his wife was fired from her job after converting to Islam and wearing a headscarf.
Ott's wife, Michele Birringer, also embraced Islam and the couple regularly post photos and videos of them together, the most recent of which was during a greeting marking Eid al-Fitr, the end of the Muslim holy month of Ramadan.
"Now that the corona crisis is slowly coming to an end, the love for one's neighbor is slowly noticeably ending. Today my wife was fired, because the headscarf doesn't fit at work," wrote Ott on his official Instagram account.
"The boss later phoned me and said that she could stay until she found something else. And no, my wife no longer works there. It is a sign of Allah that this job is the wrong one. Alhamdulilah," Ott went on to explain in his heartfelt post.
"She says that she will continue to wear her headscarf proudly. After we converted people were afraid that we would become radical," Ott concluded his post by saying.
Ott had converted to Islam in April, saying that the coronavirus (COVID-19) crisis propelled him to find his "true faith."
In an Instagram post, 37-year-old Ott proudly announced that he had become Muslim by reciting the Shahada, the Islamic proclamation of faith and also one of the five pillars of Islam.
"The corona crisis has given me the necessary rest to find my faith. My faith is now strong enough that I can recognize the one true God and recite the Shahada to be able to say proudly, yes I am a Muslim," he wrote.