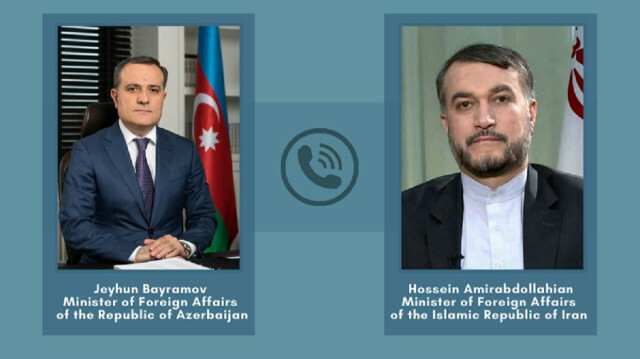 Azerbaijan's Foreign Minister Jeyhun Bayramov discussed bilateral relations with his Iranian counterpart Hossein Amirabdollahian over the phone on Saturday, according to a report by Trend News Agency.
Having positively assessed the developments that have transpired over the past week, the ministers ascertained the release of two Iranian drivers as a positive step, as well as the warning issued to relevant Iranian departments on displaying respect for the territorial integrity of Azerbaijan.
Jafar Barzegar and Shahroud Norouzi were handed over to the Iranian Embassy in Baku early on Thursday based on an unspecified agreement and will be sent back to Iran after legal formalities are concluded.
During the conversation, the importance of continuing the activities of the Joint Intergovernmental Commission, the composition of which was updated by the new Iranian administration, was emphasized.
The parties stressed the importance of resolving all disagreements through dialogue.
Relations between the two countries have rapidly deteriorated in recent months, with Tehran pointing to the presence of Israeli troops on its border with Azerbaijan, and Baku accusing Iran of illegally sending trucks to the Nagorno-Karabakh region.
The tensions were sparked by comments from Azerbaijani President Ilham Aliyev in which he accused Iran of violating Azerbaijan's sovereignty by hiding the identity of trucks heading to Armenia.
Iran, however, rejected the accusations and alleged that "third parties," an indirect reference to Israel, were disrupting relations between the two countries.
Tehran recently held extensive military drills on its border with Azerbaijan, which came after a joint military exercise by Turkey, Azerbaijan and Pakistan.
Iran, which shares a 132-kilometer (82-mile) border with Azerbaijan, has traditionally maintained a neutral stance on the long-running dispute between Azerbaijan and Armenia over Karabakh.
However, following last year's recent flare-up in the region, Iran recognized Azerbaijan's military superiority over Armenia, as the Iranian people also rallied behind Baku.