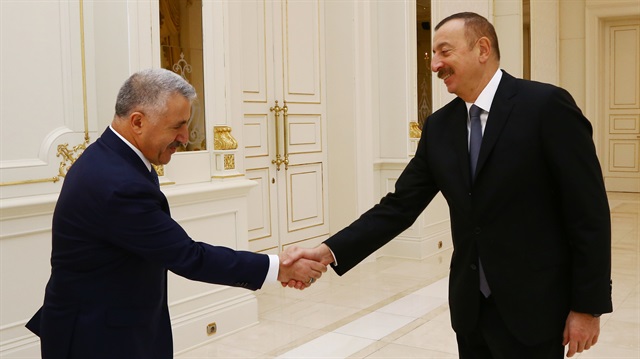 Azerbaijani President Ilham Aliyev on Tuesday met Turkish Transport, Maritime Affairs and Communications Minister Ahmet Arslan in the capital Baku.
Aliyev said Azerbaijan welcomed the fact that numerous Turkish companies participated in the International Telecommunications and Information Technologies Exhibition in Baku.
"We need to provide clear projects in maximum level for the transportation and communication corridors that unite us," Aliyev said, according to the Azerbaijani Presidency.
"There are many opportunities in the areas of transportation and communication," Aliyev added, recalling the Baku-Tbilisi-Kars (BTK) railway project that was jointly launched by Azerbaijan, Turkey and Georgia in late October.
Arslan thanked Aliyev for hosting such an exhibition, in which more than 190 companies from 20 countries participated.
The exhibition will be open till Dec. 8.