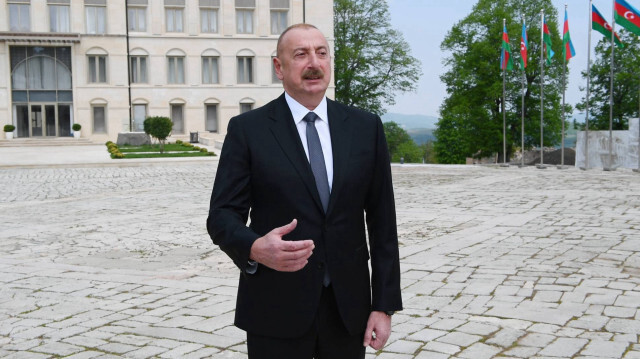 Azerbaijani President Ilham Aliyev
Azerbaijani President Ilham Aliyev on Monday said that the signing of a peace agreement with Armenia is "inevitable."
"We believe that the signing of a peace agreement is inevitable and we are trying to make constructive efforts to achieve this goal. Of course, this peace agreement should be based on international norms and principles," Aliyev said at a joint news conference with his Lithuanian counterpart Gitanas Nauseda, following their talks in the Lithuanian capital Vilnius.
Aliyev said that he and Nauseda had a broad exchange of views on regional issues, notably on the Azerbaijan-Armenia peace talks, adding that he expressed hope that peace negotiations will eventually bring long-term peace to the Caucasus region.
The Azerbaijani president said that they also discussed bilateral cooperation between Baku and Vilnius.
"In the framework of our bilateral cooperation with Lithuania, at the same time, European Union-Azerbaijan relations play an important role, and we express our gratitude to Lithuania for its efforts to develop these relations," Aliyev said.
Aliyev recalled Azerbaijan and the European Commission signed a memorandum of understanding on strategic partnership in the field of energy two months after Nauseda visited Baku in May 2022, and that this memorandum is being implemented.
"Very serious steps are being taken regarding the transportation of Azerbaijani natural gas to European markets. The volume of transported, that is, exported gas is increasing year by year and will increase," Aliyev said.
He said that Baku and Vilnius also exchanged views on the creation of renewable energy sources, adding that he believes further cooperation in this field will be possible in the near future.
"Of course, our countries have great responsibilities to create even more comfortable transport and communication opportunities on the Eurasian continent … We agreed that the relevant institutions will seriously deal with this matter. Because the new geopolitical reality prevailing in the world dictates it," Aliyev said.
For his part, Nauseda said Aliyev's visit to Lithuania will add a "new positive dynamic" to bilateral relations between Baku and Vilnius, and that Azerbaijan is a partner of Lithuania within various EU programs, such as the Eastern Partnership and Twinning.
He added Lithuania supported the development of relations between the EU and Azerbaijan, and that they must look for new opportunities to develop their strategic partnership within the framework of the Eastern Partnership program.
"We positively evaluate the energy cooperation of the European Union with Azerbaijan. This cooperation has had a positive effect on the energy market of the European Union, and also ensured the supply of the European Union for the winter months," he added.
9 days ago