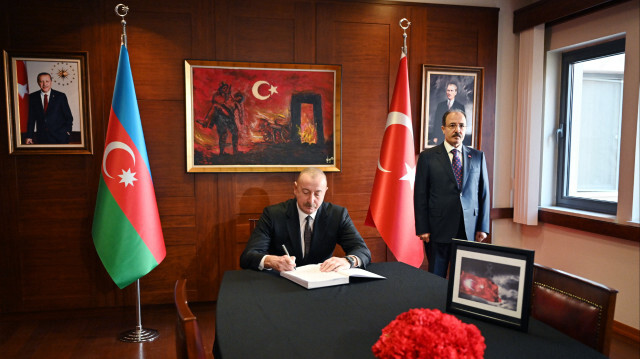 Azerbaijani President Ilham Aliyev
Azerbaijani President Ilham Aliyev on Wednesday visited the Turkish Embassy in Baku, where he offered his condolences to Turkish Ambassador Cahit Bagci over the loss of life due to Monday's earthquakes that jolted southern Türkiye.
"President of the Republic of Azerbaijan Ilham Aliyev has visited the Embassy of the Republic of Türkiye in the country, and offered condolences over the heavy casualties as a result of an earthquake that hit Türkiye. Turkish Ambassador to Azerbaijan Cahit Bagci welcomed the head of state," a statement by the Azerbaijani presidency read.
The statement further noted that Aliyev signed the condolence book and held a one-on-one meeting with Bagci.
"This terrible earthquake shook us a lot. In other words, it caused great spiritual pain to each of us. We share the pain of our brothers. We pray for the speedy recovery of the injured," Aliyev said, according to the statement.
Aliyev was also quoted saying that the Azerbaijani people voluntarily bring what they have "to support their brothers," such as blankets, mattresses, and jackets. "Whatever he can afford, he doesn't spare it," Aliyev noted.
"May God have mercy on all those who perished, may God give patience to their relatives. Natural disasters happen, no one is insured against them. But, the operative and flexible steps of the Turkish state once again showed that the human factor is the main issue for the Turkish government. At the same time, this difficult test will once again show the strength of Türkiye to the whole world," he added.
On Monday, Aliyev said in a phone conversation with Turkish President Recep Tayyip Erdogan that a rescue team of 420 people was being sent to the country and would start working with Turkish authorities as soon as they arrived.
Since then, nearly 650 rescue personnel have come to Türkiye to aid in search and rescue efforts in regions hit hard by the earthquakes, along with a wide range of relief equipment and supplies that have been sent by planes and trucks.
Azerbaijani workers rescued at least 16 people in the Kahramanmaras region, including three children, according to a statement by the country's Emergency Situations Ministry on Wednesday.
At least 8,574 people have been killed and 49,133 others wounded, according to Erdogan, after 7.7 and 7.6 magnitude earthquakes struck 10 southern Turkish provinces within the space of a few hours, affecting around 13 million people.
More than 96,670 search and rescue teams have been engaged in non-stop search and rescue efforts, the Disaster and Emergency Management Presidency (AFAD) said in a statement.
Over 5,309 personnel from other countries are helping out in the disaster area, according to AFAD, which includes rescue teams sent from Turkic countries.​​​​​​​
2 months ago