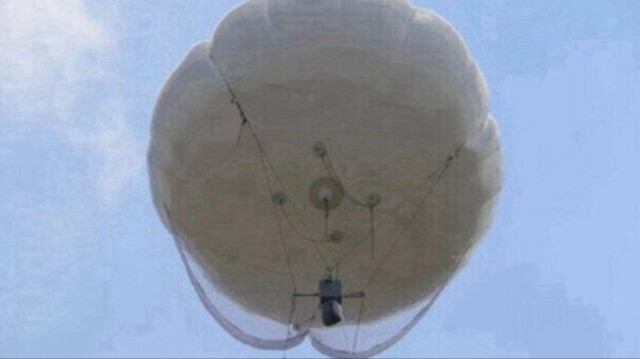 China has accused Washington of "damaging" progress made in bilateral relations by use of "indiscriminate force" to shoot down the alleged spy balloon on Saturday.
"China strongly opposes such behavior and urges the US not to escalate action," Chinese Vice Foreign Minister Xie Feng told US diplomats based in Beijing, in a demonstration of protest against the US act.
The US shot down the suspected Chinese "spy" balloon Saturday which had been spotted above US airspace off the coast of the state of South Carolina.
"What the US has done has seriously impacted and damaged both sides' efforts and progress in stabilizing Sino-US relations since the Bali meeting," he said, urging the US "not to take further actions that harm China's interests, and not to escalate or expand the tension."
Chinese President Xi Jinping met with his US counterpart Joe Biden in Bali, Indonesia last November where the two sides had agreed to maintain high-level communication.
US Secretary of State Antony Blinken was scheduled to travel to Beijing this weekend but postponed it due to the balloon incident.
Beijing, however, has insisted that the "civilian" airship made an unintended entry into the US airspace due to force majeure.
"The facts are clear and cannot be distorted or smeared," Xie told the US Embassy head on Sunday.
He said the US side "turned a deaf ear and insisted on indiscriminate use of force against the civilian airship that was about to leave US airspace."
After the balloon was located by Washington, Beijing said it had conveyed to the US that it was a "civilian airship."
"China is closely monitoring developments, and will take necessary action to defend Chinese enterprises' rights, while also preserving the right for further response," Xie said, according to a statement by the Chinese Foreign Ministry released on Monday.
Xie said the US "obviously overreacted and seriously violated the spirit of international law and international practice."
"The Chinese government … will resolutely defend the interests and dignity of China, and reserves the right to make further necessary reactions," the Chinese vice foreign minister told the American diplomats in Beijing.
An F-22 fighter of the US Air Force fired an AIM-9X air-to-air missile and shot down the balloon, the Pentagon said on Saturday, despite admitting that the balloon did not pose a military or physical threat.
Defense Secretary Lloyd Austin said the decision was made at the direction of US President Joe Biden.
2 ay önce