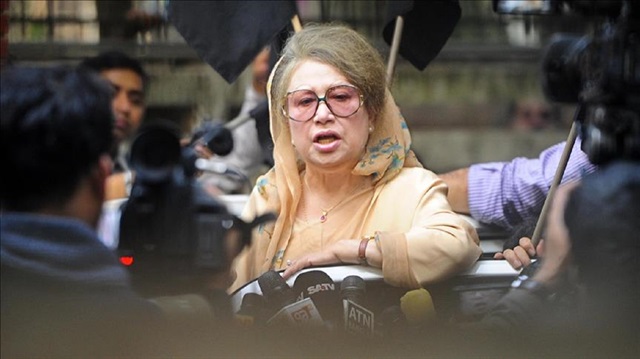 Bailable arrest warrants in two separate cases were issued on Thursday in the capital Dhaka for Bangladeshi opposition leader Khaleda Zia.
The first case accuses her of misusing funds worth 21 million Bangladeshi taka ($254,700) in a charity named after Zia's husband, who was also the former Bangladeshi president.
The second case, filed last November, accuses her of undermining the country's flag and map, by handing them over to members of the Bangladesh Jamaat-e-Islami party, who formed a coalition government with her in 2001, even though they were against indepence from Pakistan in 1971, when Bangladesh became a separate country.
Nur Nabi, the Dhaka metropolitan magistrate, directed the police to submit a report regarding the arrest on Nov. 12, local Daily Star reported.
Akhtaruzzaman, a special court judge, fixed Oct. 19 for hearing arguments in the 2008 Zia Orphanage Trust case, the daily added.
Ruhul Kabir Rizvi Ahmed, spokesman for Zia's Bangladesh National Party, told Anadolu Agency: "The arrest warrants have been made in false cases."
The timing of the warrants coincides with Zia's return to the country from the U.K. where she went this July for a medical treatment. She is expected to return this month, the spokesman said.
Abdul Latif Masum, a political analyst and professor at Dhaka-based Jahangirnagar University, said: "The present government cannot win the election by ballot power so it is creating hurdles for rival political parties."