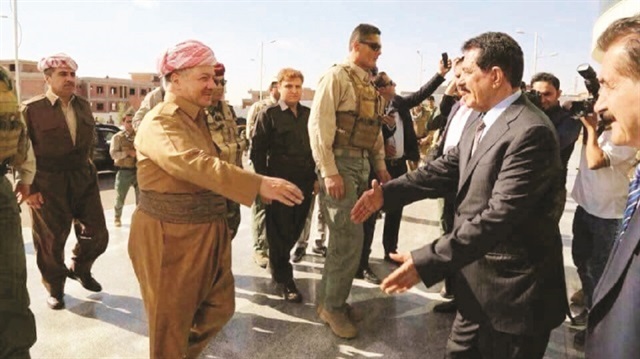 Masoud Barzani, leader of the Kurdish Regional Government (KRG), met with the so-called force commanders in Kirkuk after the illegitimate referendum held on Sept. 25 in northern Iraq. Barzani visited the Peshmerga headquarters in Kirkuk on Monday and the former governor Najmiddin Karim, who is occupying his office despite being discharged by the Iraqi central government. Sources in the region who evaluated the closed-door meeting said he was insinuating that he was ready for war.
ERDOĞAN SAID 'YOU ARE NOT A PART OF KIRKUK'S HISTORY'
Kirkuk is a controversial area, and they are claiming to own Kirkuk. You are not a part of Kirkuk's history," Turkish President Recep Tayyip Erdoğan said on Saturday at a party consultation meeting in Turkey's eastern province Erzurum. Oil-rich Kirkuk is ethnically mixed.
"An independent state is not being established in northern Iraq. On the contrary, it is a bleeding wound that is always going to be prodded by foreign forces," he continued.
As a response to joint military exercises of Turkey and Iran, the Barzani administration deployed Peshmerga forces to the border.
BARZANI'S KIRKUK VISIT AN OPEN PROVOCATION
Kirkuk deputy Hasan Turan said, "Barzani is provoking all sides. The visit to Kirkuk while Iraqi Federal Forces are fighting against Daesh in Hawija is an open provocation."
"The exhibited provocation further strengthens the situation in the region," said Turan, adding that in the coming days, anything could happen.
OCCUPATION ATTEMPT
The first provocative visit to Kirkuk, which is not affiliated to the Erbil-based KRG, was made by the so-called minister of education in the early hours of the morning.
A delegation from Erbil, accompanied by Pashtivan Sadiq and dismissed governor Najmiddin Karim, spoke about the new education-training period that began on Monday.
"Kirkuk is now linked to Kurdistan," Najmiddin Karim said.
Masoud Barzani arrived in Kirkuk at noon, and held a closed-door security meeting with so-called force commanders in which the joint military exercises on the Iraqi, Iranian and Turkish borders that sources in the region have evaluated as a message declaring that they "are ready for war." The sources also said that it was significant for Kirkuk to be selected as the location of the meeting.
SUPPORT OF FOREIGN FORCES
Sources informing Yeni Şafak about the provocative trip made by Barzani to Kirkuk argue that the U.S. and Israel supported Barzani in taking these steps. On the other hand, the U.S. supports all border lines in the possible interventions against Barzani with arms and ammunition.