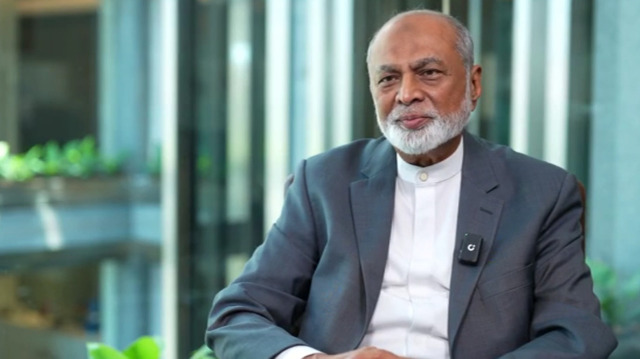 Renowned human rights activist Abdul Malik Mujahid
In a recent interview with Yeni Safak, Abdul Malik Mujahid, a renowned human rights activist who has been recognized eight times as one of the 'World's 500 Most Influential Muslims', delved into the role of the Indian film industry as a tool for India's foreign policy.
Mujahid highlighted how the industry often portrays a distinct national image through themes like music, dance, unity, and joy, effectively showcasing the essence of Indian life. Notably, he pointed out that a notable portion of Indian films receives government funding and, in some instances, carries pronounced anti-Muslim sentiments. According to him, "There are major films which are most popular in India are blatantly anti-Muslim."
Mujahid highlights that certain prominent Indian films depict Muslims in a negative light, portraying them as terrorists, criminals, and villains. Despite these concerns, Mujahid observes that the Indian film industry enjoys global popularity, reaching audiences as far as Arab and Turkish societies. He posits that due to its immense influence, the Indian government tolerates and even promotes Muslim actors, such as Shahrukh Khan, Salman Khan, and Aamir Khan, who often have Hindu spouses or partners. This approach, he suggests, aligns with the government's diplomatic efforts to present an image of interfaith harmony and cooperation.
Mujahid emphasizes the broader context of diversity representation within government services. He contends that while Muslims are scarcely represented in Indian government services, their presence in the foreign service hovers around three to four percent. This seems to be a way of showcasing to the world that Muslims hold significant positions within India, including roles like ambassadors, to project inclusivity.
Similarly, he draws a parallel between the film industry and diplomacy, stating, "The film industry is part of their diplomatic effort." They include Muslim names in the industry, who might not necessarily have a strong Muslim background – perhaps born to a Muslim father and a Hindu mother, with a Hindu wife. He argues that India strives to portray these individuals as the "ideal" and "acceptable" version of Muslims.
4 months ago