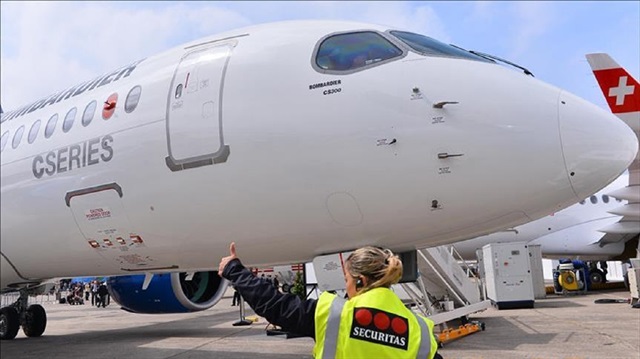 The U.S. on Friday fired another salvo in the aerospace war with Canada, hitting Bombardier Inc. with an additional 80 percent in duties on its CSeries commercial jet, bringing the total to almost 300 percent.
Bombardier officials, who called the imposition of a 220 percent duty Sept. 27 "absurd", did not immediately respond to the new tariff by the U.S. Commerce Department.
The duties are in response to a complaint from U.S. competitor, Boeing, that accused Quebec-based Bombardier of selling 75 of its new CSeries jets to Delta Air Lines at below production cost to gain market share and that the government subsidized the project.
The Quebec government put $1 billion into Bombardier but said it was an investment, not a subsidy.
Bombardier said the complaint cannot be justified because Boeing did not have a plane that matched the Delta specifications when the bid was awarded to the Canadian aircraft manufacturer in 2016. That argument was augmented by the Canadian government.
"Boeing is manipulating the U.S. trade remedy system to prevent Bombardier's new aircraft, the CSeries, from entering the U.S. market, despite Boeing's admission that it does not compete with the CSeries," Canadian Foreign Affairs Minister Chrystia Freeland said in a statement Friday.
The U.S. government sided with Boeing.
"The Unites States is committed to free, fair and reciprocal trade with Canada, but this is not our idea of a properly functioning trading relationship," Commerce Secretary Wilbur Ross said Friday. "We will continue to verify the accuracy of this decision, while (doing) everything in our power to stand up for American companies and their workers."
Bombardier pointed out that the CSeries 100- to 150-seat airline carrier, still to be manufactured to fill the Delta order, will be built with half of the parts coming from U.S. suppliers. The project is expected to create more than US$30 billion in business and more than 22,700 American jobs in 19 states.
The U.S. said a final decision on the Boeing complaint is slated for Dec. 19.
The U.S. decision can be appealed to the U.S. Court of International Trade, the North American Free Trade Agreement or the World Trade Organization, dragging out the conflict.
The Canadian government is behind Bombardier.
Canada has threatened to cancel its planned purchase of 18 Super Hornets from Boeing, while the British government fears job losses at Bombardier's plant in Northern Ireland.
Canadian Prime Minister Justin Trudeau and British PM Theresa May are lobbying U.S. President Donald Trump to cancel the duties.