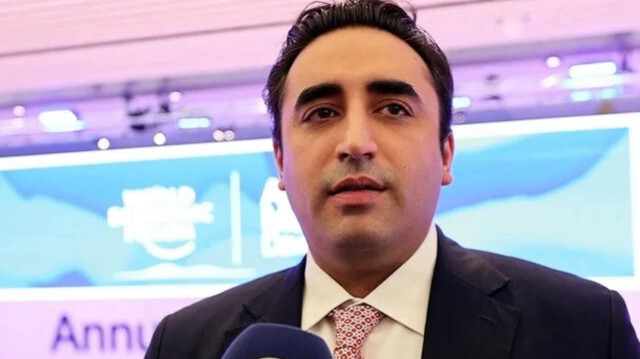 Pakistan's Foreign Minister Bilawal Bhutto-Zardari
Pakistan's Foreign Minister Bilawal Bhutto-Zardari praised China for boycotting the Group of 20 (G-20) meeting in Indian-administered Kashmir, saying that Beijing has acted as a "responsible superpower."
In an exclusive interview with Anadolu Agency in Muzaffarabad, the capital of Pakistan-administered Kashmir also known as Azad Kashmir, Bhutto-Zardari criticized the Indian government's decision to hold the G-20 meeting in the disputed territory.
"I think China's principal decision not to attend such an event at a disputed territory, displays China's principal commitment to international law, to the UN Security Council resolutions and these are the actions of a responsible superpower," he said.
India is hosting the third G-20 working group on tourism meeting in the disputed Himalayan region from May 22-24.
Last week, China said that Beijing will not attend any meeting of the G-20 in the disputed territory of Kashmir.
Earlier this week, the Pakistani foreign minister held a large gathering in Azad Kashmir and addressed the legislative assembly where he reiterated support for the Kashmir cause.
Kashmir is held by India and Pakistan in parts and claimed by both in full. A small sliver of the region is also controlled by China.
Since they were partitioned in 1947, the two countries have fought three wars – in 1948, 1965, and 1971 – two of them over Kashmir.
Touching upon Türkiye, the 34-year-old foreign minister called Ankara and Islamabad like "brothers."
"I think that the relationship between Türkiye and Pakistan is not just one between two states but it is a genuine relation between two people who see themselves as brothers," said Bhutto-Zardari, who comes from a long line of politicians in Pakistan.
Anadolu spoke to Bhutto-Zardari about various issues, including international relations, political crisis in his country and the problems in Afghanistan and ties with India.
Anadolu: You have been to Goa (India) as part of the Shanghai Cooperation Organisation (SCO) meeting. You became the first foreign minister to visit India in 12 years. Can you share your impressions there? What gains have been made? How would you interpret this visit?
Bilawal Bhutto Zardari (BBZ): Thank you. You're correct. I did go to Goa for the SCO Summit. But it was purely within the SCO context that I wasn't going as far as our bilateral relations are concerned. And nothing has changed, Pakistan's principal position, after the actions in August 2019 in Kashmir, remains the same, as the onus is now on India to reverse those acts, reverse those actions and create an environment that is conducive for dialogue and diplomacy.
Anadolu: Despite Pakistan's opposition, India held the G-20 meeting in the Indian-administered Kashmir, China also refused to attend it and said Beijing will not participate in such a meeting in a disputed area. How will you react to this action?
BBZ: As far as India's decision to hold this event of the G-20 in Kashmir, I think it is yet another display of Indian arrogance on the world stage. They are sending the message to the international world, domestically and internationally, despite Kashmir being a disputed territory, despite the ramifications of the UN Security Council resolutions. In August 2019, they displayed their arrogance by unilaterally amending their constitution and attempting to change the disputed status of Kashmir.
And this is a continuation of where they are attempting to hold a G-20. summit and send the message to the world that international law is irrelevant, the UN Security Council resolutions are irrelevant. But if India believes that by holding one conference they can silence the voice of the Kashmiri people, then they are indeed mistaken, time and time again generation after generation, the people of Kashmir fought for their fundamental rights of self-determination, recognized by the United Nations and Pakistan will continue to morally support this course.
Anadolu: How do you look at the Chinese decision to say no to the G-20 meeting in Kashmir?
BBZ: I think that China's principal decision not to attend such an event at a disputed territory displays China's principal commitment to international law, to the UN Security Council resolutions and these are the actions of a responsible superpower.
Anadolu: Afghanistan-Pakistan relations have been strained from time to time. The Pakistani defense minister even said that if Afghanistan does not neutralize the terrorists, an operation could be carried out inside their territory. Is Pakistan still considering such an action?
BBZ: As far as Afghanistan and Pakistan are concerned, the people of Afghanistan and the people of Pakistan are exhausted after decades and decades of war.
And we all believe that it is in our interests that there is a stable, prosperous Afghanistan.
There are few points of contention, one of which is the issue of terrorism, particularly visibly the Tehreek-e-Taliban Pakistan. We have seen a drastic increase in the number of terrorist attacks from this group within Pakistan since the fall of Kabul.
We request them to demonstrate what they were and their ability to deal with such organizations and live up to their international commitment or their commitment to their own people, that their soil will not be used as a launching pad against any other country and I'm optimistic that if we continue to engage with the interim government of the Afghanistan, we will be able to eventually see some progress in this area.
I accept that the interim government in Afghanistan does need some capacity building. They do not have a standing army. They do not have a counterterrorism force. They don't have a border management force.
All these issues mean that there is a capacity issue.
As far as our defense minister statements, perhaps he could have used more diplomatic language. However, the fundamental principle that Pakistan has a right to defend itself is recognized by international law.
Anadolu: How do you look at Pakistan-Türkiye relations and in which area the two countries could further improve their cooperation?
BBZ: I think that the relationship between Turkiye and Pakistan is not just one between two states but it is a genuine relation between two peoples who see themselves as brothers. And we have stood with each other through testing times. (When) Pakistan faced an earthquake in Kashmir, it was Turkiye that came to our aid before anybody else. People of this area (Kashmir) where we are sitting today still remember the kindness and the support of people of Turkiye.
And despite facing incredibly difficult economic times as soon as we got the sad news of the tragic recent earthquake in Türkiye, then Pakistan, whatever was in our capacity to stand with our Turkish brothers and sisters.
I think that we have demonstrated over time that we have a comprehensive partnership between the two countries. As far as areas where there is still room for improvement, I believe that within the context of our economic engagement, I believe that our trade between Turkiye and Pakistan, do not demonstrate the true potential that we have to unlock between the potential for economic cooperation between our two countries.
Anadolu: Currently, Pakistan is facing a political crisis. Being the head of Pakistan's People Party, what is your plan to come out from this crisis? Is there any plan to hold elections and end this crisis as a crackdown continues against the opposition and the government has arrested thousands of its workers?
BBZ: Absolutely. We are facing difficult political challenges. Some of it is unique to our own context. And some of it sort of demonstrated across the world.
As far as the polarized environment that we are facing here in Pakistan between political parties. That is not unique to us. That is something that we see across the world.
Pakistan has a long history as far as our democratic transition is concerned, our democratic struggle is concerned that we've faced a large part of our rule under a dictatorship.
Our democracies fundamentally believe that there are no problems within Pakistan that we cannot solve through the democratic process, and it has been our consistent effort.
Unfortunately, would-be phased Mr. (Imran) Khan and his populist politics – again, not unique to us, demonstrated in other parts of the world as well our politicians – challenge democracy by implying the constitution doesn't apply to them, the law doesn't apply to them, the rules don't apply to them, the norms don't apply them.
Then we've seen how even a 200-year-old democracy like the United States can be shaken to the world.
Here in Pakistan, when our unity government first came to power, we took a very traditional stance when engaging with the opposition.
We were particularly careful, we do not want to be seen as carrying out a political vendetta.
Despite the fact that just a few years ago Mr. Khan was in power (and) all the opposition leadership was put in prison, he also put even the women of the household (in prison), my father's sister, my aunt, and Mr. (Nawaz) Sharif's daughter, were also incarcerated. But we were very careful to not try the same path as Mr. Khan.
We had economic challenges that we had to face, we had a whole host of challenges and we wanted to pay them attention.
And there was a series of events that Mr. Khan engaged in.
First when we went to the vote of no confidence, he violated the Constitution, declared all the opposition as traitors and refused to have our votes counted. After a month of litigation, the Supreme Court sort of undid his decision and declared it unconstitutional. While we could have conducted a trial with Mr. Khan for violating the Constitution, (but our) government chose not to do so.
When we came into government, foreign funding case against Mr. Imran Khan had matured, and it had been established that he received foreign funding for his political party, which is illegal in Pakistan and according to the laws of Pakistan, the federal government could have taken action to ban his political party. However, we chose not to do it as we believe that this would be a difficult precedent that we will be setting that in the future would have severe consequences.
Mr. Khan announced a protest to Islamabad but he didn't engage in a peaceful protest as protesters took up arms on May 25 (2022). Islamabad set alight by these protesters, again in reaction to that the government did not establish its writ. It did not arrest the perpetrators, it did not file terrorism charges. We did not want to give the impression that we were pursuing some sort of political vendetta.
In March (this year), Mr. Khan was served with an arrest warrant by a few officers but he had refused to turn up for a court case that he was facing. Instead of turning himself in, he turned Lahore Zaman Park into a war zone where his supporters were throwing Molotov cocktails at the police and at the administration. And he avoided arrest. Again, the government did not act and did not take action against Mr. Khan, because we have principled Democratic politicians who do not want to engage in what could be perceived as a political vendetta.
As in Al-Qadir trust case, a corruption case against Mr. Khan and his wife by the National Accountability Bureau, when this issue was brought before our Cabinet, the Cabinet of Pakistan did not approve taking action against Mr Khan in this case. Again, because we did not want to be perceived to be seen as far as a political vendetta.
However, the actions of May 9 have now changed that for us. On May 9, Mr. Khan was arrested after an arrest warrant was issued by the National Accountability Bureau as far as the Al Qadir corruption scandal is concerned. And in reaction to that his party did not engage in peaceful protests. His party engaged in violent protests. They took up arms against the state, not just batons, but also firearms against the state. They attacked Jinnah House in Lahore that was gifted by Quaid-e-Azam Muhammad Ali Jinnah and now it is the corps commander house.
They attacked the general headquarters of our army, they attacked military installations. They burned down fighter planes. They burned our Yadgare Shuhada (Martyrs Memorial), which has the pictures of war heroes of Pakistan, from Kargil to every military exercise that we have been involved in.
And it just hit that point where I believe the consensus among the political parties in the government and across society in Pakistan at large, that we must establish the writ of the state that this is now a red line that has been crossed (and) the law must take its course.
And for the first time, in PTI's 30 years of political existence they must for once face the consequences of their actions. It is unfortunate that we're at this point. We tried time and time again to engage in a political dialogue. For example, the Pakistan People's Party initiated amongst the coalition government to try and get our diverse allies to agree to a dialogue. And it started and we all reached the conclusion that elections should be held across Pakistan on the same date.
And all that was left was for us to decide on which date those elections were to be held. But Mr. Khan was too stubborn. He can't see, he can't differentiate between national interests and personal interests. And that has severe consequences not just for the poor political workers, who were motivated to attack such institutions, but also for the country at large. And I hope and pray that as the writ of the state establishes, we will be able to move towards political stability. We all feel it is necessary for us to improve the economic environment and head towards elections.
Anadolu: So now there's no chance of talks with Mr. Khan?
BBZ: I wouldn't say that there's is no chance of talks with PTI, but I would say and I have said time and time again from the first day after this incident took place and then in every single political speech after it (May 9), but we cannot engage with those who took up arms against the state. Unless they condemn, disassociate and apologize. We would really engage with the political forces within PTI. You cannot engage with the militant forces within PTI.
#
Foreign Minister Bilawal Bhutto Zardari
#
interview with Anadolu Agency
8 gün önce