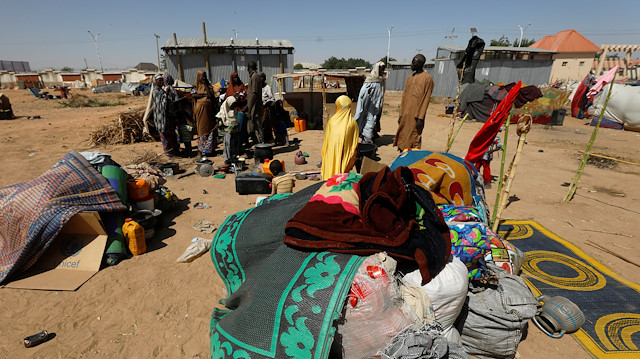 Scores of civilians have fled the volatile Lake Chad area following the introduction of new counterterrorism measures late last month by the Nigerian military.
The war against terror and insurgency in Nigeria's northeast region is entering its 11th year but attacks on communities and military locations by the Boko Haram terror group have yet to abate despite military claims of winning the war.
More than 30 soldiers and military officers have been killed in the last three months in gun battles with terrorists, two senior military officers told Anadolu Agency.
At least three soldiers were killed and one dozen wounded in an ambush by Boko Haram along a road in northeast Borno State last Friday, according to army spokesman Col. Sagir Musa.
"I'm fleeing. The place is no longer safe," said Ali Modu Gubio, a resident of Gubio, a town in the Lake Chad area. Residents usually add the name of their towns to their names.
Boko Haram raided Gubio on Aug. 20 and burned public and private buildings. Two people were reportedly killed and many civilians and security personnel were injured in the attack.
Modu said he was not particularly worried about the attack. But he fears the terrorists could return at any time without resistance because the military has withdrawn troops from many communities in the area.
"Boko Haram was attacking our area while soldiers were there. It could be worse now without soldiers. It may not be safe to stay there now as they are leaving our area," he said.
New model
The military is creating a new operational model in the northeast region, where Boko Haram unleashed terror for more than a decade. The area covers about 59,000 miles (95,000 kilometers). The military said the new strategy entails withdrawing troops from more than 100 units in many communities where they were previously based in fewer locations called "Super Camps."
Nigerian forces were stationed in more than 150 units in the area.
"This decision is not wise," says Babagana Zulum, the governor of Borno, shortly after meeting President Mohammadu Buhari last week at the Presidential Villa in Abuja.
It was one in a series of sharp criticisms after the government announced super camps.
Zulum said the withdrawal of troops fueled Boko Haram attacks on Gubio and another town, Magumeri, forcing many residents to flee.
The commander of the counterterrorism operations in the northeast, Maj. Gen Olusegun Adeniyi, said the super camps concept is to ensure "fast mobility, quick reactions and long reach" of the troops.
The strategy will make troops more mobile and not susceptible to Boko Haram attacks, he said.
Some unconvinced
Defense Minister Bashir Magashi, a retired general, flew to the area over the weekend with Army Chief Lt. Gen. Tukur Buratai to assure civilians of the efficacy of the plan.
Magashi held discussions with community leaders on the new strategy, barely a week after his appointment to the post.
But Nigerians appear not to be convinced about the military's justification for adopting the super camps.
"This action has made our remaining communities more vulnerable," says Zanna Hassan Boguma, a traditional chief and senior government official.
In an open letter to the Buhari, Boguma said residents are already fleeing their homes and the threat of insecurity created by the withdrawal of soldiers and military equipment could give Boko Haram a "clear course" to attack other towns including Maiduguri, Borno's capital. Maiduguri has population of about 1.4 million people.
Farmers say they are scared to go to their farms and dozens of farmers abandoned their land and fled to safer areas near Maiduguri last week.

"It is risky because there is no protection," Abba Kale, a farmer and agro-allied entrepreneur declares.
He told Anadolu Agency in Maiduguri farming activities around the Lake Chad have been suspended.

"Many displaced persons returned to farms last year but they have fled again now because it the security situation," he says.

When insecurity forces people to flee their homes, economic activities are affected and development is hampered, said Sharafadeen Dauda, a communication expert at the University of Maiduguri. He insists the new concept will create more security threats.

"[The] government cannot move to the area to rebuild infrastructure destroyed by the terrorists because the area is not safe. People do not have work and cannot go to farms and poverty increases daily."

About 3 million people have been displaced by the violence in Nigeria's northeast with the Lake Chad area having the highest number, according to the 2018 displacement tracking matrix of the International Organization for Migration (IOM).

Dauda said insecurity in the area has pushed out many children from school and created high unemployment. "When parents flee, they move with their children into camps for displaced persons. They are already missing out of schools," he says.

UNICEF said 2.8 million children are in need of education-in-emergencies support in the state. "In northeast Nigeria, at least 802 schools remain closed and 497 classrooms are destroyed," it said of the region which borders three African nations -- Cameroon, Niger and Chad.
Some Nigerians say they fear the crisis in the region may prolong with renew attacks by the group, which is allied with the Islamic State of West Africa (ISWA).