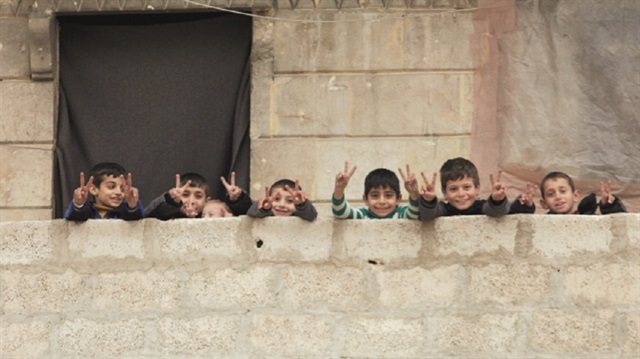 Following Yeni Şafak daily's report published on Friday claiming that Turkey would control Syria's central regions including Aleppo, excitement rippled through the country. Ankara and Moscow are negotiating a deal which would facilitate Turkey's control of Syria's central regions. Many Syrians dubbed this initiative a "revolution" and have expressed their excitement.
According to assentations, Syria will be divided into three eastern, western and central regions controlled by Turkey, the U.S.-PKK alliance and Russia-Assad alliance.
National Coalition for Syrian Revolution and Opposition Forces member Fuat Aliko told Yeni Şafak daily on Friday that the U.S. and PKK will administer the east, Turkey and the FSA will administer central areas and Russia and the Assad regime will administer the south and western areas.
"The border between us [Turkey and Syria] is artificial. We feel like we belong to Turkey. If the control of Aleppo is delivered to Turkey, thousands of people will not hesitate to return to their homeland. We can rebuild the city of Aleppo in two years with Turkey," said former governor of Aleppo Abdurrahman Dedem.
Before Syria was ravaged by war, Aleppo hosted a population of 5.5 million people, but 75 percent of the city was emptied in 2013 after the opposition left.
"Undoubtedly the most important event of the past seven years"
"Turkey's initiative in Aleppo could salvage a portion of $30 billion worth of investments. This is undoubtedly the most important event of the past seven years," Tammam Al Baroudi, executive vice president of the Syrian Economic Forum, told Yeni Şafak daily.
Stressing the importance of Aleppo as largest trading and manufacturing center in the Middle East, Baroudi said: "More than 30 Turkish industrial companies established millions of dollars' worth of factories. Delivering the control of Aleppo to Turkey will affect the entire balance of the Middle East, its trade and political environment as well as its economy."
Iran, Turkey and Russia have a joint plan for the reconstruction of the ruined city and return of refugees. The negotiations between Russia and Turkey regarding the control of Aleppo are ongoing.
Turkey and Russia, together with Iran, are the guarantor countries who brokered a cease-fire in Syria in December 2016 leading to the Astana, Kazakhstan talks, which are being held in parallel to UN-backed discussions in Geneva to find a political solution to the Syrian conflict.
"Social, economic and humanitarian ways for the Assad regime have come to an end. The country has completely collapsed. Aleppo's liberation and reconstruction will revive hopes not only of Aleppans but also the whole country," said former Aleppo local council president Bretta Haci.
"Turkey is the only door of Syria that connects it to the world. If this initiative succeeds, it will truly be a fresh start," he added.
Claims seem to be verified
Kremlin's latest move is seen as proof of the claims that Turkey will control Aleppo.
Russia's Defense Ministry said on Friday it sent detailed proposals to Washington on organizing the return of refugees to Syria after agreements reached by President Vladimir Putin and his U.S. counterpart Donald Trump, the RIA news agency reported.
Trump and Putin met at a summit in Helsinki on Monday, although it is unknown what they discussed at a one-on-one meeting there. The Defense Ministry said that over 1.7 million Syrian refugees would be able to return to Syria.
#
National Coalition for Syrian Revolution and Oppos
5 yıl önce