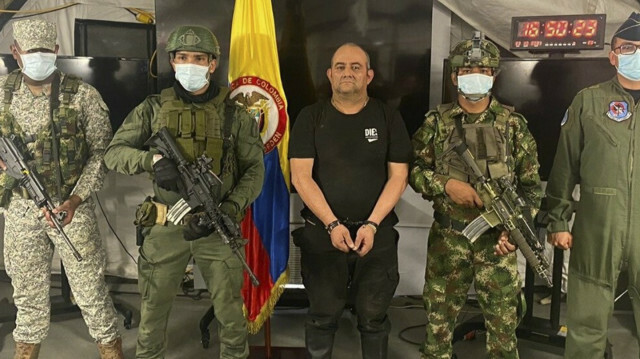 Colombia's most-wanted drug dealer has been captured by security forces, the government said Saturday.
Dairo Antonio Usuga, known as Otoniel, leader of the Clan del Golfo, or Gulf Clan, drug trafficking group was the world´s "most feared" drug trafficker, according to President Ivan Duque.
"This is the hardest blow against drug trafficking in this century in our country, only comparable to the fall of Pablo Escobar in the 90s. Alias Otoniel was the most feared drug trafficker in the world," he said from the Tolemaida Air Base in Tolima Department.
Usuga murdered police, soldiers and social leaders, and recruited minors in Antioquia and other departments where the Gulf Clan is present, according to Duque.
"Alias Otoniel was in the most wanted cartel not only for drug trafficking and recruitment, but also for child abuse. We will share information with agencies in the United States and the United Kingdom given the international danger of this criminal," said Duque, who stressed that Operation Osiris marks "the end of the Gulf Clan."
"To all those who have belonged to the criminal organization, the message I am sending is clear and forceful: either you submit to justice immediately or the full weight of the law will be brought down on you," he said.
Otoniel was the last major heir to criminal paramilitary groups demobilized during the government of Alvaro Uribe. Military forces had been on his trail for years. He was unable to sleep two nights at the same location because security forces were constantly tracking him
Police Director General Jorge Vargas said Otoniel and his closest men were suffering from hunger because law enforcement operations had them surrounded.
He did not allow anyone around him use cell phones and before any meeting he made participants change clothes and toss them because he feared being located by GPS.
More than 500 men took part in Operation Osiris which began early Saturday and ended about 3 p.m. when Otoniel was caught. One officer died during the operation.