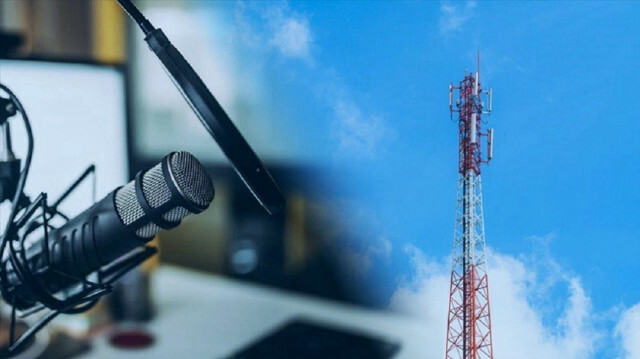 A community radio station has become a tool to disseminate useful information to listeners in one of India's most disadvantaged districts in the northern state of Haryana.
Radio Mewat was started in 2010 by Archana Kapoor.
The broadcast covers 200 villages where 800,000 people live. About 75% of the people are Muslim. Most do farming or work as truck drivers.
Speaking to Anadolu Agency for World Radio Day on Sunday, Sohrab Khan, Station Manager of Radio Mewat said: "In this era of modernity, the internet and smartphone may have replaced radio. But radio still lives in the hearts of the people of Mewat and through this, there have been many positive changes in their life."
"During the COVID era, it became the best medium to provide authentic information to the people. Right opinion and advice was given to them through the radio and the misconceptions were removed," said Khan, who added that in remote areas where modern means of communication are not available and most people are illiterate or semi-illiterate, wrong and false news and rumors spread easily and people do not know what is right or wrong.
"In this area, people had many fallacies about the coronavirus vaccine and they were hesitant to take the vaccine. In such a scenario, the radio proved to be the most powerful medium in convincing the people that the vaccine was for their good and finally their hesitations were removed," said Khan.
Due to illiteracy, people here were not ready to believe that there was such a thing as the coronavirus.
Vaccine hesitancy was a major obstacle in the face of the COVID‐19 vaccination program in this Muslim-dominated area. Residents believed that the vaccine would do more harm than good and they would not be able to do any kind of work.
But due to awareness raised through the radio, now 90% of residents have gotten their first dose and about 50% have gotten the second dose.
Khan said not only government officials but even the ulemas, or Muslim scholars, expressed their views and discussed on the radio so residents could understand the importance of the vaccine.
Radio Mewat broadcast programs for about 12 hours daily, covering issues like health, agriculture, education, among others.
In the programs, people are given beneficial information about different issues that have benefitted residents.
"This radio is not only a means of entertainment but it also gives us very good information on farming," farmer Farid Ahmed told Anadolu Agency. "We have learned about better farming practices and techniques and this has helped us in agriculture."
Rukhsar Begum said that she used to feel dizzy and it was only through the radio that she came to know that it could be due to anemia. She learned that the condition was curable.
"After this, I consulted a doctor and he gave me some medicines. Now I have been cured and no longer feel dizzy," Rukhsar told Anadolu Agency.
Working with a staff of nine people, many of Radio Mewat programs were prepared during the pandemic focusing on the prevention of the virus.
Also, 15-minute updates are broadcast daily. A total of 474 episodes have been aired.
The biggest thing the station did was remove misconceptions among residents about the virus.
Sohrab said during the pandemic, people believed all information that came on their mobile phones. We told them what was right and what was wrong.
The station has kept its doors open for the common people. Any person in the area can visit the office and tell his problem or express his views.
Every day 40 to 50 people visit the radio's office or make a call and a relationship is formed between the people and the station.
قبل٪ s