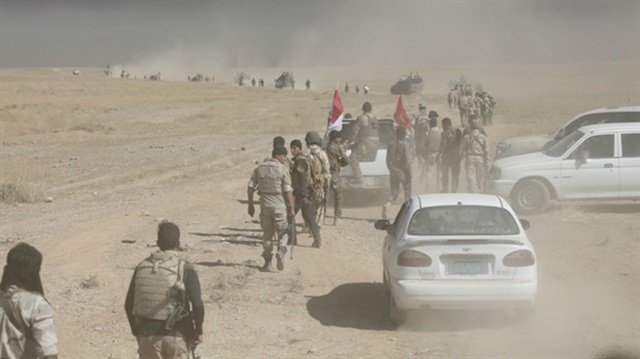 Amid the ongoing operation to liberate the predominantly Sunni Iraqi city of Mosul, the Shiite militia group Hashd al-Shaabi is advancing toward Turkmen-populated Tal Afar despite Ankara's warnings.

Some 3,000 Shaabi militias, directly backed by the Iranian government, have reportedly crossed the Kurdistan Workers' Party (PKK)-held city of Sinjar to seize the Turkmen city.

According to military sources, the plan was made last week during Iran's Revolutionary Guard Commander Qasem Soleiman's visit to Sulaymaniyah in the Iraqi Kurdish autonomous region.

During his visit, Soleimani met PKK leaders and made a deal for cooperation in the assault on Tel Afer.

Sources say the pause of the Mosul operation by the U.S.- and Iraq-led coalition forces gave a chance to the Shiite group, which is well-known for its massacres of Sunnis, to march on to the city.

Militia forces are gathered around a grain warehouse in Salyo, north of Tal Afar.

Intelligence reports say that at least 60,000 people, mostly Turkmens, are facing Shiite massacre in the city if the Hashd al-Shaabi militias enter.

Daesh also prohibited all type of civilian exit from the city and declared to kill anyone who attempts to flee the city.

Turkmens in the city called on Turkey to take active initiative to stop the "vengeful" Shiite group.

Turkish President Erdoğan said on Saturday during the Republican Day reception that Tel Afer and Sinjar was sensitive for Turkey and Ankara was ready to take any measure to save these cities from terror groups.

Turkey has long been working on three alternative plans on Mosul and Tel Afer.

Ankara clearly said that Tel Afer is a matter of Turkey's "national security" and Turkish military could directly intervene if the Shia Shaabi or PKK terror groups enter to the city.