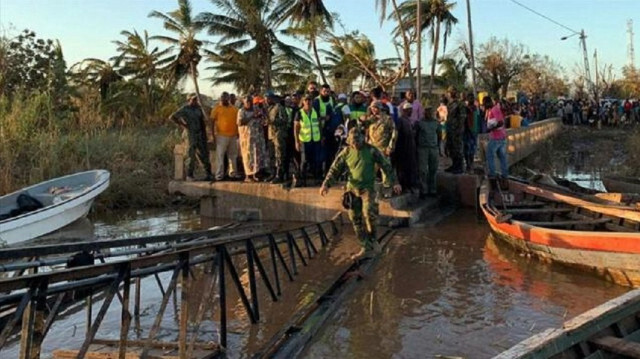 At least 190 people have been confirmed dead with 584 missing after Cyclone​ Freddy hit the southern region of​ Malawi​ on 12 March 2023.
A total of 37 people have been injured in the March 12 storm.
"The death toll has risen from 111 in the morning on Tuesday to 190 with 584 injured," Department of Disaster Management Affairs Commissioner Charles Kalemba told Anadolu.
Kalemba said 13,099 households or 58,946 people have been affected, out of which 4,305 households or 19,371 people have been displaced, with 57 camps set to accommodate those who are displaced.
He said the agency, humanitarian partners and councils will continue to facilitate the provision of relief assistance to affected and displaced households.
The city of Dodma is being assisted with search and rescue operations led by the Malawi Defence Force, Police Service, Department of Marine, Malawi Red Cross Society and communities.
The storm with heavy rains and strong winds has caused damage to infrastructure such as roads, buildings and electricity lines in the southeastern African country of 18 million.
The districts of Blantyre, Chikwawa, Chiradzulu, Mulanje, Mwanza, Neno, Nsanje, Thyolo, Phalombe and Zomba have been most affected. President Lazarus Chakwera has declared a state of disaster.
The U.S. Embassy said that following Chakwera's declaration, Washington, through the U.S. Agency for International Development (USAID) and other American agencies, is responding to the crisis.
"We are providing emergency shelters to affected households through our existing $2 million support through Catholic Relief Services," U.S. Ambassador David Young said in a statement.
Young said USAID has initiated the process of swiftly allocating additional lifesaving resources to provide essential humanitarian assistance, including blankets, buckets, tarps, chlorine tablets to ensure clean water, mosquito nets and other items.
Guilherme Botelho, Medecins Sans Frontieres (MSF) emergency project coordinator in Blantyre said the situation is very dire.
"There are many casualties, either wounded, missing or dead, and the numbers will only increase in the coming days," Botelho said in a statement shared with Anadolu.
"The Queen Elizabeth Central Hospital in Blantyre is overwhelmed with the influx of casualties coming from different areas, so we have put together a team of nurses and clinical officers to provide medical and logistic support," added Botelho.
Tropical Storm Freddy hit Mozambique on Saturday, ripping off rooftops and causing destruction before moving to Malawi, where it brought heavy rain leading to mudslides.
Schools have been suspended until March 17. Malwai is also grappling with its worst cholera outbreak with more than 1,630 dead from the outbreak as of Tuesday.
At least 136 deaths have been recorded since the storm landed in February, causing causalities in Madagascar, Mozambique and Malawi.
6 months ago