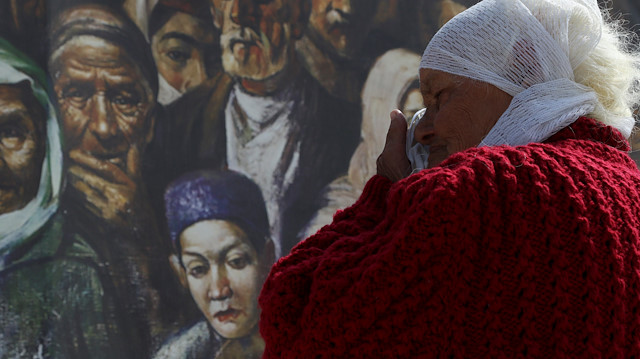 The Soviet Union's brutal 1944 deportation of Crimean Tatars bears all the hallmarks of genocide, according to a foreign policy expert.
Hakan Kirimli, a political scientist at Bilkent University in Turkey's capital Ankara, told Anadolu Agency that on May 18, 1944, the Soviet Union exiled all the Tatars from Crimea, leaving not a single one.
"They were kept in extremely harsh conditions where they were sent, and half of them were killed," Kirimli added.
Describing the deportation as a "genocide," Kirimli said: "They wanted the Crimean Tatars to completely disappear from history, and they even removed the phrase 'Crimean Tatar' from the records, saying that there would be no such people again."
On Tuesday, the Ukrainian Parliament passed a bill calling on the UN and international organizations to recognize the deportation of the Crimean Tatars as genocide.
Genocide was first recognized as a crime under international law in 1946 by the UN General Assembly, saying it involves "killing members of the group, causing serious bodily or mental harm to members of the group, deliberately inflicting on the group conditions of life calculated to bring about its physical destruction in whole or in part."
Kirimli, who is of Crimean Tatar descent, said that during the deportation, groups of about 300 Crimean Tatars were put in a covered wagon "like a sack of potatoes" with no room to move.
"Imagine that your child, brother, or grandfather is dying in front of your eyes. His dead body continues standing with you because there's no room on the floor," Kirimli said, adding that these deportation journeys took nearly 20-25 days.
The aim was to completely destroy these people and turn Crimea into purely Russian territory, he stressed.
Underscoring that the Crimean Tatars struggled democratically and non-violently against the Soviet Union for 30-40 years, he said they returned to their homeland in harsh conditions, especially after the dissolution of the USSR.
-Russian annexation of Crimea
Kirimli went on to say that commemorating the 1944 events without condemning the recent Russian occupation of Crimea shows "great insincerity."
Denouncing the Russian annexation of Crimea in 2014, he said the "inhuman and illegal" occupation has continued in Crimean territory for six years now.
"Nearly 50,000 Crimean Tatars used to gather in Simferopol, the capital of Crimea, to commemorate the deportation. Now, not even three people could come together to commemorate it," he added.
He said Crimean Tatars are not allowed to commemorate or talk about the exile on pain of 15-20 years in prison as penalty.
"Almost all schools and media outlets of the Crimean Tatars were closed," he said, underlining that opinion leaders were either deported from Crimea, detained, or jailed.
The annexation was a crime against humanity and violation of international law, he said calling on the international community to toughen sanctions against Russia.
"If there were no real sanctions and Russia were not punished by the international public, these people [native Crimeans] would disappear and international law would be trampled on," he added.
Six years have passed since Russia illegally annexed from Ukraine the Crimean Peninsula on the northern end of the Black Sea, largely populated by Crimean Tatars.
Russian forces entered the peninsula in February 2014, with Russian President Vladimir Putin formally dividing the region into two separate federal subjects of the Russian Federation the following month.
Since then, Crimean Tatars have continued their struggle for Ukraine's territorial integrity against Russian occupation.
Crimea's ethnic Tatars have faced persecution since Russia's 2014 takeover of the peninsula, a situation Turkey has decried.
Turkey and the U.S., as well as the UN General Assembly, view the annexation as illegal.