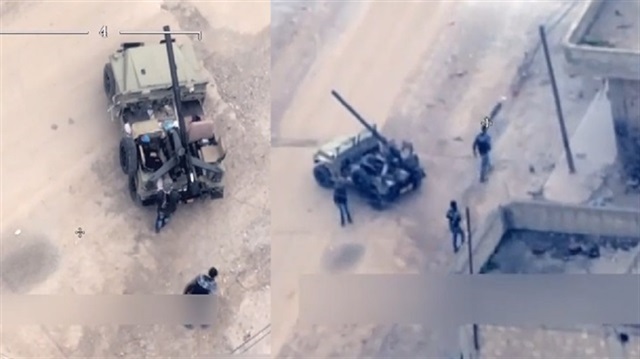 PKK/YPG terrorists disguise themselves as civilians to launch attacks on Turkey
Drone footage shows YPG/PKK terrorists conducting attacks targeting Turkey from residential areas in Syria's Afrin in an attempt to protect themselves from air and artillery strikes. To date, seven civilians have been killed and 113 others were wounded in terror attacks targeting Turkey's border areas of Hatay, Reyhanlı and Kilis.
Footage captured in a village on the outskirts of Syria's Jandaris, west of Afrin, shows three terrorists in civilian clothing gathered around a flak gun fitted vehicle. Another vehicle equipped with an anti-aircraft weapon approaches the terrorists.
The terrorists launched an attack after positioning the flak-gun-fitted vehicle to face Turkey before quickly fleeing the area.
They returned to the YPG/PKK base shortly, and it is seen that there are other terrorists at the base. The terrorists burn tires in order to shield themselves from being filmed.
The Turkish Armed Forces (TAF) struck the YPG/PKK base as part of Operation Olive Branch.
Since the onset of the operation, the PKK/YPG terrorist organization has launched 98 rocket and mortar attacks targeting Turkey's border areas of Hatay and Kilis. As a result of the attacks, seven civilians, including two Syrian nationals, were killed and 113 others were injured.
Operation Olive Branch was initiated on Jan. 20 in Afrin to establish security and stability, eliminate terrorists of PKK/KCK/PYD-YPG and Daesh, and save locals from the terrorists' oppression and cruelty.
6 years ago