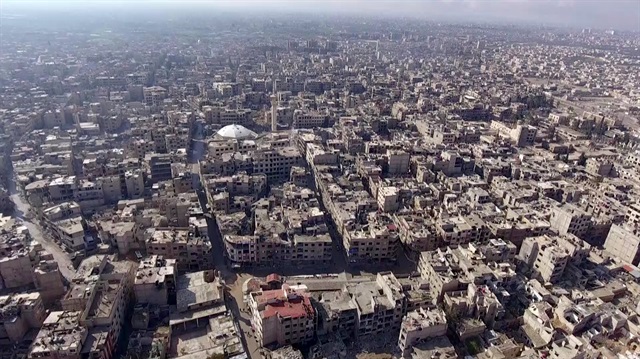 An analysis of aerial drone footage showed widespread new damage in Syria's besieged enclave of Eastern Ghouta. Eastern Ghouta, a swathe of towns and farms outside Damascus that is the last major opposition-controlled area near the capital, has turned into a skeleton of its former self. It has become a city of craters, debris and damaged structures.
Even minarets demolished
Even in neighborhoods with respectively less damage compared to other parts of the city, apartment blocks with their façade ripped apart and bare rooms can be seen. Rooms do not have walls, and are only distinguished by internal columns.
When there is a lull in the shelling, locals prefer to travel via motorbikes. Not even places of worship are safe from being targeted, as the video shows mosques stripped of their minarets. In the last two weeks, the Syrian regime has targeted 22 health centers, a mosque and an orphanage. There are few differences between the ghost town's cemetery and the remaining parts of the city.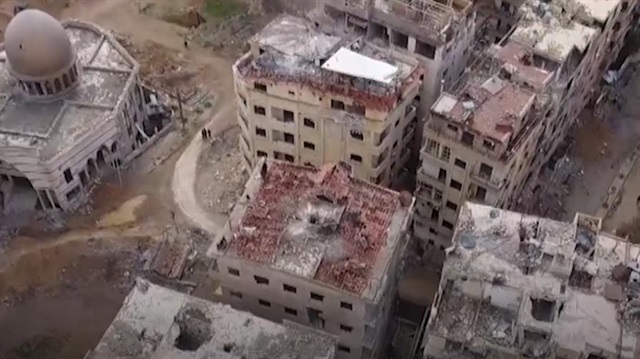 The Nur Mosque in Douma, which was built 120 years ago, was hit by warplanes of Russia, despite the country being one of the guarantors of the Astana agreement, which declares the suburb a de-escalation zone.
Russia and Turkey, along with Iran are sponsoring the Astana peace talks, which focuses on a cease-fire and ending the six-and-a-half-year civil war in Syria.
Over 100 children killed
Russia and the Syrian regime continue shelling the city despite the UN call for a ceasefire. According to the White Helmets civil defense agency, a total of 674 civilians were killed in the last 12 days. Of those, at least 107 were children and 76 were women.
Failure of humanitarian corridors
There are approximately 400,000 people trapped in the besieged city. Since Feb. 19, escalating hostilities have resulted in hundreds of deaths. UN Security Council Resolution 2401 was adopted unanimously on Saturday, which calls for a 30-day ceasefire in Eastern Ghouta to allow the delivery of badly-needed humanitarian aid.
Russia, a staunch ally of Assad, called for daily five-hour local ceasefires to establish what it calls a humanitarian corridor so that aid can enter the enclave and civilians and the wounded could leave. But the first such truce on Tuesday quickly collapsed when bombing and shelling resumed after a short lull.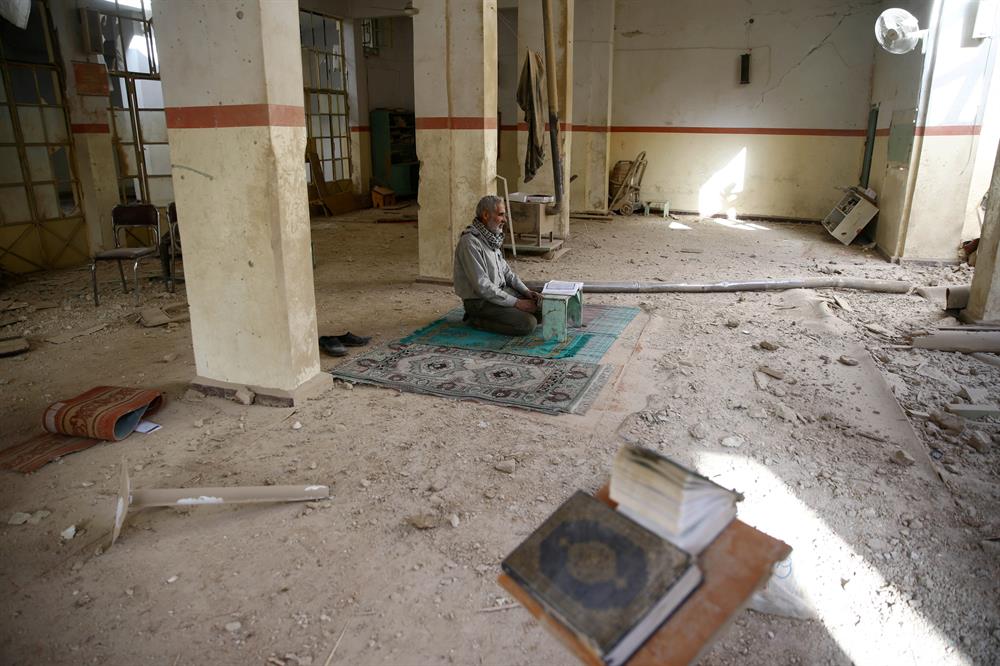 Global attention
Russian proposals for humanitarian corridors to evacuate people from eastern Ghouta in Syria are a "joke" and people are afraid to use them for fear of conscription, exile or death, the U.S. State Department said on Thursday.
"The idea that Russia is calling for a so-called humanitarian corridor, I want to be clear, is a joke," State Department spokeswoman Heather Nauert said at a briefing. Residents fear using such corridors because they could be conscripted into Syrian President Bashar al-Assad's forces, never return to their homes, or be killed, she said.
A Russian plan for a five-hour pause in fighting in Syria's eastern Ghouta needs to be expanded to allow aid deliveries to enter and civilians and urgent medical cases to leave, United Nations officials said on Thursday.
Syria has been locked in a vicious civil war since early 2011 when the Assad regime cracked down on pro-democracy protests with unexpected ferocity.
Since then, hundreds of thousands of people have been killed and more than 10 million others were displaced, according to UN officials.