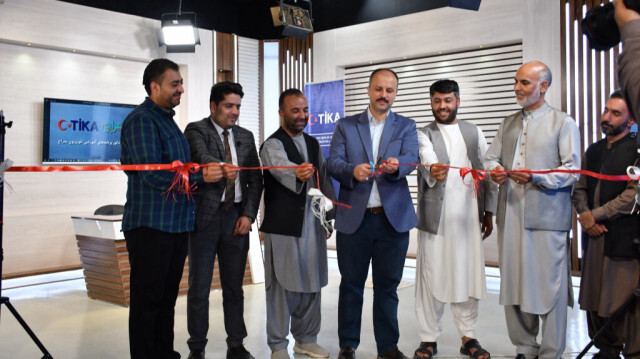 Empowering education in Afghanistan: TİKA supports new studios for Miraç TV
The Turkish Cooperation and Coordination Agency (TİKA) has established two new studios within Miraç TV, a network that broadcasts education and cultural programs throughout Afghanistan with the support of TİKA.
Considering the significant portion of the population lacking literacy and limited access to higher education in the country, the studio designs were tailored to meet the needs of distance education requirements.
The project, especially targeted towards rural areas of Afghanistan, aims to enable people to benefit more from education through programs broadcasted on Miraç TV.
The opening ceremony of the project was attended by TİKA Herat Coordinator Arafat Deniz, Miraç TV Channel Manager Habibullah Ferahi, Abdulvahid Behre Cultural Center Manager Veli Şah Behre, and Afghan Education Institute Director Ali Akber Zerrin.
In his speech during the ceremony, TİKA Herat Coordinator Deniz emphasized that education remains a priority in the projects carried out in Afghanistan. He highlighted TİKA's commitment to supporting distance education conditions to address the challenges in the education sector.
Miraç TV Channel Manager Ferahi expressed gratitude to TİKA for their support in providing audio-visual systems and studio designs.
It is expected that the educational programs to be broadcasted on Miraç TV will contribute to reducing illiteracy and addressing the gaps in higher education in Afghanistan. Through such initiatives, TİKA continues to play a crucial role in empowering education and fostering positive change in the region.
5 ay önce