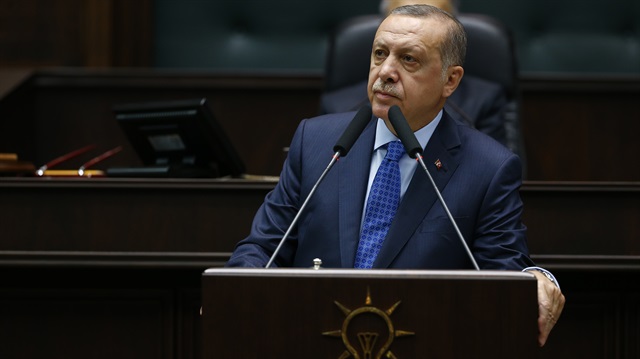 Turkish President Recep Tayyip Erdoğan on Tuesday slammed a chemical attack conducted by the Assad regime which targeted Eastern Ghouta's Douma district, using poisonous gas and leaving at least 78 civilians dead.
"Eastern Ghouta and Douma… I curse those who carried out the massacre. Those who carried out that massacre will pay a heavy price," said Erdoğan.
"We are conducting talks, [and] efforts over this. I had a phone conversation with Mr. [Russian President Vladimir] Putin yesterday. Talks will continue today and tomorrow," said Erdoğan.
The Damascus suburb has been under siege for the last five years, and humanitarian access to the area, which is home to 400,000 people, has been completely cut off.
Over the past eight months, Assad regime forces have intensified their siege, making it nearly impossible for food or medicine to get into the district and leaving thousands in need of treatment.
Senior FETÖ terrorists brought from Africa to Turkey
"MİT [Turkey's National Intelligence Organization] is tracking FETÖ terrorists. Gabon handed over three senior FETÖ members to Turkey. We will chase them wherever they flee," said Erdoğan.
Turkish intelligence officers on Tuesday brought three senior Fetullah Terrorist Organization (FETÖ) terrorists to Turkey following an operation in Gabon, a central African country.
The group - Osman Özpınar, İbrahim Akbaş and Adnan Demironal - was brought to Turkey from the capital Libreville via private plane. The FETÖ terrorists are now being probed by the judiciary.
FETÖ and its U.S.-based leader Fetullah Gülen orchestrated the defeated July 2015 defeated coup in Turkey, which left 250 people martyred and nearly 2,200 injured. Gülen pursued a long-running campaign to overthrow the Turkish government through the infiltration of state institutions, particularly the military, police and judiciary, forming what is commonly known as the parallel state.
Akkuyu Nuclear Power Plant
"We participated in the groundbreaking ceremony of the Akkuyu Nuclear Power Plant with Mr. Putin. The cost of the four-phase plant will reach approximately $22 billion. It will meet ten percent of Turkey's electricity needs once the first part is active in 2023, and will make Turkey one of the few countries in the world which has a nuclear power plant," Erdoğan said.
Erdoğan and his Russian counterpart Vladimir Putin attended the groundbreaking ceremony of Akkuyu Nuclear Power Plant via a video conference call from the Presidential Complex in the capital Ankara last Tuesday.
The Akkuyu plant, comprising of four units, each with a capacity of 1,200 megawatts, will be built by the Russian State Nuclear Energy Agency, Rosatom. It will produce 35 billion kilowatts of electricity at full capacity.
The project started with an intergovernmental agreement signed between Turkey and Russia on May 12, 2010.
At present, there are 450 nuclear power plants in 31 countries, while 55 plants are under construction around the world. The number of power plants under construction will be 56 with the Akkuyu plant.
"We aim to boost our trade with Russia to $100 billion," Erdoğan said, signaling a further strengthening of ties between Ankara and Moscow.
Ties between the two countries have grown increasingly closer as Russia enters a diplomatic rift with western countries regarding the poisoning of former spy Sergei Skripal.
Ankara and Moscow continue to cement their strong economic ties through various agreements. Turkey finalized an agreement to purchase Russia's long-range S-400 missile defense system, and the two countries are currently building the Turkstream pipeline to transport Russian gas to Turkey.
Erdoğan and Putin regularly speak to discuss bilateral ties and regional developments. The two leaders spoke on Monday regarding the attacks in Syria's Douma and Eastern Ghouta over the phone. Erdoğan expressed concern over the Douma and Eastern Ghouta attacks, and highlighted the importance of working together with Russia in order to prevent civilian casualties.
Erdoğan announced that the number of terrorists neutralized during Operation Olive Branch in northwestern Syria's Afrin had reached 4,071.
"4,071 terrorists have been neutralized in Afrin. We will continue until the very last terrorist is neutralized," said Erdoğan.
Turkish authorities often use the word "neutralized" in their statements to imply that the terrorists in question either surrendered or were killed or captured.
Erdoğan said that Turkey will return Syria's Afrin to its residents, criticizing recent remarks by Russian foreign minister. Sergey Lavrov on Monday urged Ankara to return Afrin to the Bashar al-Assad regime.
"This is a wrong approach. We know very well to whom we will return Afrin," Erdoğan told reporters in the parliament.
He said Afrin would be handed over to its residents "when the time comes".
"But, we will define the time," he added.
On Jan. 20, Turkey launched Operation Olive Branch to clear YPG/PKK-Daesh terrorists from Afrin, northwestern Syria.
5 yıl önce