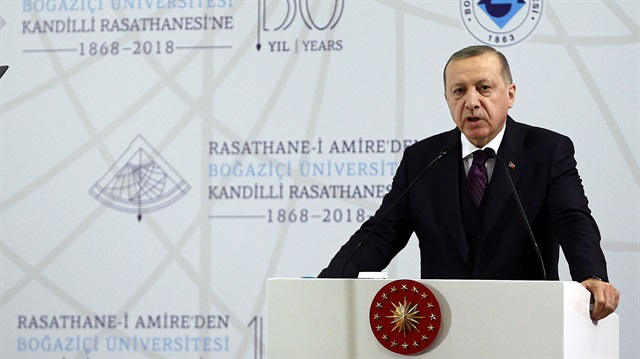 President Recep Tayyip Erdoğan on Friday said a decision to hold a snap election would rejuvenate Turkey
"With this snap election, we have the opportunity to abolish the bureaucratic oligarchy. This decision ruined many scenarios. We see the election as a decision to store energy for a great and strong Turkey," said Erdoğan.
"The path of our nation will open up," he added.
Erdogan announced on Wednesday a plan to hold presidential and parliamentary elections on June 24, over a year ahead of schedule.
On April 16, 2017, Turkey held a referendum on a constitutional reform in which the majority of voters pronounced themselves in favor of an 18-article bill switching a parliamentary system into a presidential one.
Operation Olive Branch
Erdoğan said that at least 4,250 terrorists have been neutralized during Operation Olive Branch in northwestern Syria's Afrin region.
Speaking at 150th foundation anniversary of Boğaziçi University's Kandilli Observatory and Earthquake Research Institute in Istanbul, Erdoğan said: "4,250 terrorists neutralized since start of Operation Olive Branch in Afrin."
Operation Olive Branch was initiated on Jan. 20 in Afrin to establish security and stability, eliminate PKK/KCK/PYD-YPG and Daesh terrorists, and save locals from their oppression and cruelty.
The operation is being carried out under the framework of Turkey's rights based on international law, UN Security Council resolutions, its self-defense rights under the UN charter, and respect for Syria's territorial integrity.
The military said it is putting the "utmost importance" on not harming any civilians.
On March 18, Turkish-backed troops liberated Afrin town center, which had been a major hideout for the PKK terror organization since 2012.
The PKK is listed as a terrorist organization by Turkey, the European Union and the United States. The PKK has been conducting armed violence in the southeastern part of Turkey since 1984. More than 40,000 people, mostly civilians, have been killed in the three-decade long conflict.