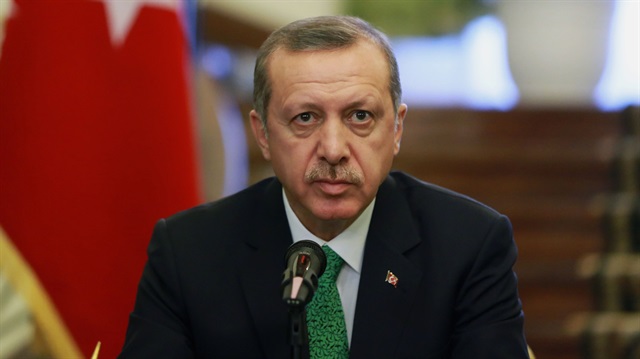 President Recep Tayyip Erdoğan on Friday said that Germany has become a nation that does not comply with the EU acquis.
"Germany has fallen into a position that does not comply with the European Union acquis," Erdoğan said.
The president also said that German political parties, including the party of Chancellor Angela Merkel, are "enemies of Turkey."
"I am calling out to our fellow citizens in Germany: do not support any of them. They are all enemies of Turkey. Give support to political parties that are not the enemies of Turkey, because from this point on, it is a struggle of honor for all our citizens living in Germany," the president said.
He called on the approximately one million Turkish voters in Germany to "teach German political parties a lesson."
Prime Minister Binali Yıldırım also commented on Germany-Turkey ties.
"Just as Germany is a country of law, so is Turkey. The customs union issue should not be a matter for Germany to decide on its own on behalf of the EU. Germany is speaking on behalf of the EU. This is an imposition. The customs union is not a one-sided agreement. Turkey is not in a hurry to change the customs union. Turkey will do whatever is in its best interest," he said.
ADIL ÖKSÜZ DIPLOMATIC NOTE
The president touched on the diplomatic note issued by Turkey to German authorities following the news that FETÖ fugitive Adil Öksüz was spotted in Germany.
"We are fulfilling our diplomatic duty. We issued our note and we want Germany to take the necessary steps in this regard. Just as Germany displays a different attitude when they us to return a citizen, now we are asking for a terrorist there. They want a guilty person, and we want a terrorist. I gave 4,500 files to Merkel, but we have not had any responses. Right now they have three to five detainees here. They are constantly asking for their extradition. If they have a judiciary, so do we," said Erdoğan.
Fugitive Adil Öksüz was FETÖ's "Air Force imam;" a term used to describe Gülen's various key figures who convey instructions they and other FETÖ terrorists comply with.
In the diplomatic note issued by the Turkish Foreign Ministry, it stated that Öksüz was sighted in various German cities.
Prime Minister Binali Yıldırım also spoke about the diplomatic note regarding Öksüz.
"It is our duty to find all the FETÖ terrorists who engaged in the July 15 coup attempt and ensure justice is served. If Germany defends them, if Germany hosts them, they will not be acting as an ally or friend. We want the terrorists who were involved in this coup to be returned to Turkey and tried," Yıldırım said.
BARCELONA TERROR ATTACK
The president condemned the terror attack in Barcelona, Spain, on Thursday that left 14 dead when a van ploughed into a crowd in the city center.
"We strongly condemn the attack [in Barcelona]. We strongly condemn Daesh, and are fighting against them both domestically and internationally. We neutralized more than 3,000 Daesh terrorists in the Euphrates Shield Operation. Unfortunately, the West is not taking the same steps against Daesh," Erdoğan said.
The terror attack was also strongly condemned by Prime Minister Yıldırım.
"We strongly condemn the terrorist attack, and share the pain of the Spanish people. Terrorism is the shared problem of the world. There is a need for a strong front with a unity of understanding of terrorism. We must carry out joint operations," he said.
MAINTAINING PEACE IN SYRIA
The prime minister spoke about Turkey's role in ensuring lasting peace in Syria.
"In order to ensure permanent peace in Syria, Turkey, Russia, Iran initiated the Astana process. A permanent solution is being targeted. The senior officials of these countries came together and assessed the situation. It is our aim to completely stop the civil war in the Idlib region and the southern regions, and to bring lasting peace to Syria. An operation against terrorist groups is always on the agenda. We are taking measures against groups that harm civilians, especially Daesh and the YPG," Yıldırım said.