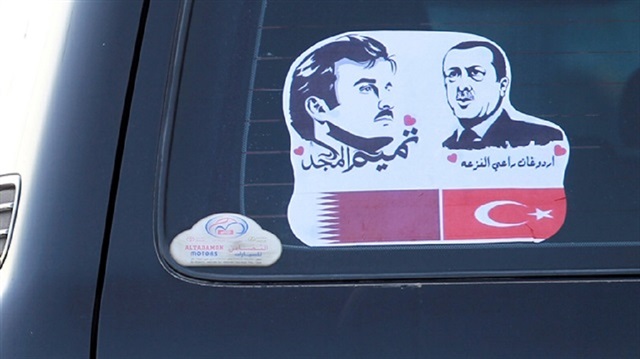 Posters of President Recep Tayyip Erdoğan and Sheikh Tamim bin Hamad al-Thani side by side.
The Qatari public reacted to the blockade initiative by hanging posters of President Recep Tayyip Erdoğan and Sheikh Tamim bin Hamad al-Thani on the windows of their cars side by side.
In Qatar's capital, Doha, almost all cars have a sticker with the outline of the Turkish and Qatari heads of state next to each other.
The posters were accompanied by messages such as, "We are all Qatar, we are all al-Thani," "We will sacrifice ourselves for this nation," and "You have paid the price, keep calm Qatar!"
A gift from Qatar to the Turkish people
The posters with photographs of Erdoğan have messages like "May God protect you," and are being shared across social media platforms.
The painter Ahmed Bin Macid shared a video on social media of himself making the portrait of Erdoğan.
The video titled "A gift from the Qatari people to the Turkish people," received thousands of likes and features Erdoğan saying, "Do not be afraid, do not worry, do not be upset, God is with us."
Mohamed Siddik al-Amadi, a 64-year-old Qatari who was the former cameraman of Sheikh al-Thani's family and now runs a car accessory store in Doha, said, "We can barely meet the demand for the posters of Turkish President Erdoğan and Sheikh al-Thani because they are so sought-after."
"In particular, the youth want to show their gratitude [to Turkey] for showing their solidarity with Qatar, which is facing blockade, by ordering these posters," he continued.
Amadi said the Qatari people would not let the blockade impact them or their lives.
"We did not expect our brothers in the Gulf to try to impose such a blockade on our country. Although Qatar is a small country, together with its people and administration, it is a big country. This blockade will not affect us nor our lives," he said.
#
Sheikh Tamim bin Hamad al-Thani
6 yıl önce