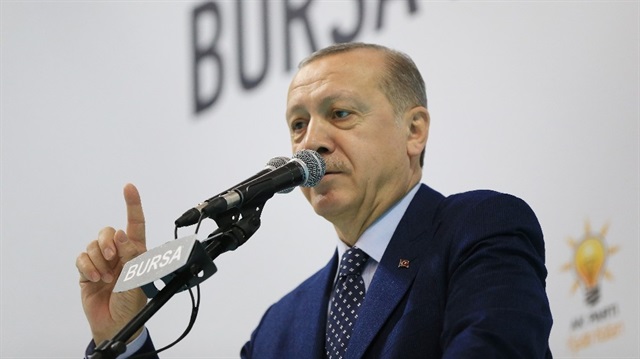 President Recep Tayyip Erdoğan on Monday commented on the ongoing Operation Olive Branch launched in Syria's Afrin.
"Turkey will not take a step back from the Afrin operation, and has an agreement with Russia," Erdoğan said in a speech in the capital Ankara.
"We struck the first blow against those who want to form a terror corridor along our borders with the Operation Euphrates Shield. It is a matter of eliminating the terror corridor. The U.S. brought 5,000 truckloads of military equipment to this region. This was distributed to terror organizations," he added.
The president said that Turkey would ensure control of Afrin, as it had done in the Syrian towns of Jarablus, al-Rai and al-Bab, and that Syrians would be able to return home.
"Our Syrian brothers and sisters in Turkey will have the opportunity to return to their homes," he added.
The operation was initiated on Jan. 20 in Afrin to establish security and stability, eliminate terrorists of PKK/KCK/PYD-YPG and Daesh, and save locals from the terrorists' oppression and cruelty.
"I am declaring that our nation does not have its eyes on the territory of others. Turkey's aim is to ensure national security and the territorial integrity of Syria," Erdoğan said.
The Turkish Armed Forces (TAF) extended Operation Olive Branch to Syria's Azaz district, east of the Afrin region, on Monday.
"Turkey is not against the Kurds in Afrin, but is fighting against the terror organizations there. Afrin is comprised of Arabs, Kurds and Turkmens, but there is also a terrorist organization there. When these terrorist organizations are eliminated from Afrin, our Kurdish, Arab and Turkmen brothers will be the most thankful," Erdoğan said.
"We are in constant contact with our prime minister, chief of staff and commanders. The Afrin operation will end when it reaches its aims, just as the Operation Euphrates Shield did," he added.
The president also commented on a missile that hit the Turkish border province of Hatay.
"The attackers will pay a heavy price for this," he said.
5 years ago