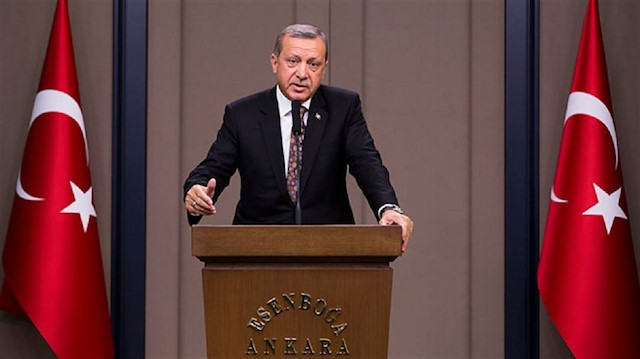 Turkey's cross-border operation into northern Syria has so far neturalized 109 Kurdistan Workers' Party (PKK) terrorists since it was launched on Wednesday, President Recep Tayyip Erdoğan said on Thursday.
Ankara launched on Wednesday the operation east of the Euphrates River in northern Syria to secure its borders by eliminating terror elements, and to ensure the safe return of Syrian refugees and Syria's territorial integrity.
Turkish troops along with the Syrian National Army began the military operation at 4 p.m. local time (1300GMT) against the Daesh and PKK terror group and its Syrian offshoot PYD-YPG.
Speaking to members of his ruling Justice and Development (AK) Party's parliamentarian bloc in Ankara, Erdoğan defended Turkey's operation into Syria on Thursday, saying the military operation would support Syria's territorial integrity by confronting terrorist control of the country's northeast.
"They are not honest, they just make up words," Erdoğan said of Turkey's critics, singling out Saudi Arabia and Egypt. "We, however, create action and that is our difference."
Erdoğan also said Daesh prisoners who need to be kept captive will be held in prison and those accepted by their own countries will be returned home.
Earlier, the ministry asserted that the Turkish military targets only terrorists, their shelters, positions, weapons, tools and equipment, while attention and sensitivity are shown to prevent the damages to civilians and historical, cultural, religious structures, infrastructure facilities and elements of friendly and allied countries.
Turkey has said the terrorist group PKK and its extension the YPG/PYD constitute the biggest threat to Syria's future, jeopardizing the country's territorial integrity and unitary structure. It has also stressed that supporting terrorists under the pretext of fighting Daesh is unacceptable.
Turkey has a 911-kilometer (566-mile) border with Syria and it has long decried the threat from terrorists east of the Euphrates and the formation of a "terrorist corridor" there.
Turkey plans to resettle 2 million Syrians in a 30-km-wide (19-mi) safe zone to be set up in Syria, stretching from the Euphrates River to the Iraqi border, including Manbij.