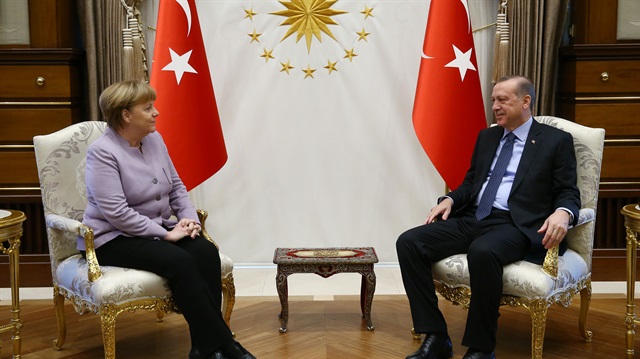 Turkish President Tayyip Erdogan and German Chancellor Angela Merkel in Ankara, Turkey.
President Recep Tayyip Erdoğan criticized German Chancellor Angela Merkel's use of the term "Islamist terror" during a joint press conference in Turkey's capital Ankara on Thursday.
"I have to clarify something that may have been misunderstood by the chancellor's public. The term 'Islamist terror' is greatly upsetting for Muslims. Such a term cannot be used, and is in fact incorrect," Erdoğan said.
"Islam and terror cannot coexist. The very definition of the word Islam is peace. So long as this term is used, we will oppose it."
No other country is fighting against Daesh as hard as Turkey, Erdoğan added, saying that while the majority of countries have verbally condemned Daesh, Turkey, as a Muslim-majority country, is combatting the terrorist group.
Erdoğan and Merkel mainly discussed developments in Syria, Iraq and the Aegean Sea during a two-and-a-half hour meeting.
Merkel arrived in the Turkish capital for the first time since July's failed coup.
Merkel said that the migration deal between the EU and Turkey was in the interest of both parties and that it has already delivered results.
Extradition of FETÖ terrorists
"We are committed to fighting terrorism and fighting these crimes. But we need evidence to proceed. The courts are evaluating this evidence. We should respect courts and independent reviews," Merkel said, hinting that Germany would not easily return Fetullah Terrorist Organization (FETÖ) fugitives who had fled to Germany.
FETÖ members are believed to be behind the failed July 15 coup attempt and part of a long-running campaign to overthrow the state through infiltration of Turkish institutions, particularly the military, police and judiciary.
"The Fetullah Terrorist Organization is equivalent to the PKK, the PYD [Democratic Union Party] and the YPG [People's Protection Units]. If those who attempt a coup in Turkey can flee to Germany, then the German administration, the justice ministers can be sent documents and information just like the documents we sent to the U.S.," Erdoğan said.
Erdoğan reiterated that the U.S. should take quicker steps to process Ankara's extradition request for U.S.- based cleric Fetullah Gülen, who is believed to be behind the failed July 15 coup attempt.
"We sent 85 boxes of evidence to the U.S. and are still waiting for an outcome. We are NATO allies, two friendly countries. I hope a conclusion is reached as soon as possible," he said.
For months, the U.S. has been reviewing documents that Turkey sent based on a 1979 extradition treaty between Ankara and Washington.
Turkey has repeatedly asked the U.S. to temporarily arrest and extradite Gülen, who is the leader of FETÖ.
"This is my first visit after the coup attempt. I have expressed that those responsible for July 15 must be punished," Merkel said.
Erdoğan said he and Merkel discussed cooperation in the fight against terrorism, the refugee crisis and possible mutual steps in Syria.
When Merkel was asked about the upcoming Turkish referendum on constitutional changes, she said everything should be done to ensure that the separation of powers and plurality of opinion are guaranteed.
"With the [attempted] putsch, we saw how the Turkish people stood up for democracy and for the rules of democracy in Turkey," Merkel said in reference to last July's failed coup attempt.
"That is exactly why, in this decisive phase, it is important that freedom of opinion is upheld, and in connection with this we talked about press freedom," she added.
6 years ago