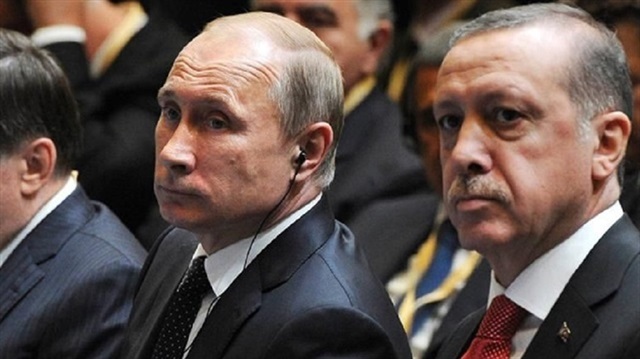 Chemical attacks on Syrian opposition-held Idlib were "inhuman" and "unacceptable", President Recep Tayyip Erdoğan told his Russian counterpart Vladimir Putin on Tuesday.
According to the Turkish presidency, Erdoğan held a telephone conversation with the Russian leader to discuss Tuesday's incident.
More than 100 civilians were killed and 500 others, mostly children, have been affected by the chlorine gas attack carried out by regime warplanes in Khan Shaykun town in Idlib, the Syrian interim government's health minister, Firas Jundi, said earlier.
"These kind of inhuman attacks are unacceptable," Erdogan told Putin.
Both leaders stressed the need to strengthen cooperation in the fight against terrorism
They also agreed further efforts should be taken to maintain the fragile Syrian ceasefire.
Fighting parties in Syria -- excluding Daesh and al-Qaeda related groups -- agreed to a cease-fire that came into effect Dec. 30 last year.
During the Tuesday's conversation, Erdogan also stated that these kind of attacks have a risk of destroying progress made at previous peace talks in Kazakhstan.
Last year, a UN-appointed investigation panel found chemical weapons had been used by regime forces and opposition fighters in 2014 and 2015. However, no actionable steps were taken.
Chlorine gas in warfare is outlawed by international treaties. High-level exposure can cause suffocation, with children and seniors being particularly vulnerable.
Since civil war in Syria erupted in March 2011, more than 250,000 people have been killed, according to the UN. The Syrian Center for Policy Research puts the death toll at more than 470,000.