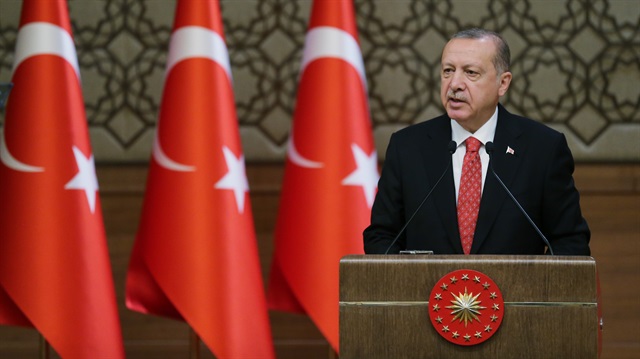 President of Turkey Recep Tayyip Erdoğan
Turkish President Recep Tayyip Erdoğan on Monday said that Turkey was the only country that could lead the Muslim world.
"Turkey, with its cultural wealth, accretion of history and geographical location, has hosted diverse faiths in peace for centuries, and is the only country that can lead the Muslim world," he said in a meeting with religious officials.
Turkey neutralized 7,500 PKK, Daesh terrorists
Touching upon Turkey's fight against terror, the president said: "We will continue to take every measure needed against terrorist organizations. We have inflicted heavy blows to these organizations during this period. We have neutralized approximately 7,500 Daesh and Kurdistan Workers' Party (PKK) terrorists.
The PKK is listed as a terrorist organization by Turkey, the European Union and the United States. The PKK has been conducting armed violence in the southeastern part of Turkey since 1984. More than 40,000 people, mostly civilians, have been killed in the three-decade long conflict.
Turkey waged real struggle against FETÖ
Turkey mounted the greatest struggle against the terror group Fetullah Terrorist Organization (FETÖ) under its current leadership, Erdoğan said.
"The real struggle against FETÖ was waged only in our term," Erdoğan said, referring to the , the group behind a defeated coup in 2016.
"But let me tell you, we were late too. Unfortunately, we paid the price for being late," Erdogan added, speaking to a group of muftis at the Presidential Complex in the capital Ankara.
Citing the December 2013 plot against government ministers and leading businesspeople, Erdogan said that if Turkey hadn't fought FETÖ since that plot, despite obstruction by the main opposition, the 2016 coup attempt would have turned out differently.
FETÖ and its U.S.-based leader Fetullah Gülen orchestrated the defeated coup of July 15, 2016, which left 251 people martyred and nearly 2,200 injured.
Ankara also accuses FETÖ of being behind a long-running campaign to overthrow the state through the infiltration of Turkish institutions, particularly the military, police, and judiciary.
Dec. 17-25, 2013 saw a graft probe and the detention of prominent figures in a FETÖ plot to overthrow Turkey's elected government.
5 yıl önce