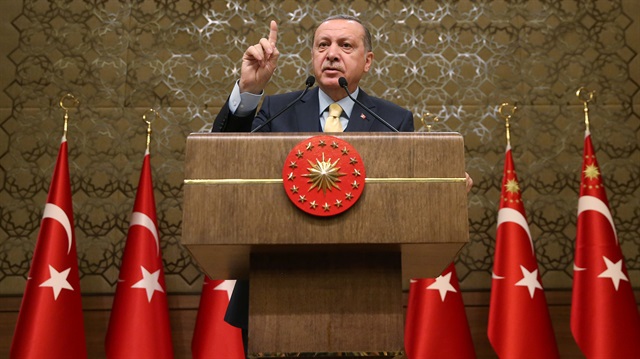 President Recep Tayyip Erdoğan said on Friday that Turkey would clear Syria's Manbij of terrorists following Afrin.
"Turkey's Afrin operation is clear warning to those who don't want to understand Turkey's determination in the fight against terrorism," Erdoğan said.
"Turkey will rid Syria's Manbij of terrorists following Afrin. Nobody should be bothered by this. Turkey is not occupying Afrin, only fighting against terrorists there," he added.
Turkey launched Operation Olive Branch on Jan. 20 in Afrin to establish security and stability, eliminate terrorists of PKK/KCK/PYD-YPG and Daesh, and save locals from the terrorists' oppression and cruelty.
"We will continue to fight until no terrorist is left on our borders. Our only concern is to ensure our national security and the safety of our citizens and our Syrian brothers and sisters," Erdoğan said.
The president also said that the Turkish military was taking precautions to protect the safety and security of civilians during its Afrin operation.
"We will ensure the 3.5 million Syrians in Turkey will be able to return to their homes. This is what the operation aims to do. We are trying to make Afrin livable for the Syrian locals and clear it of terrorists, just as we did in al-Rai and Jarabulus," Erdoğan said.