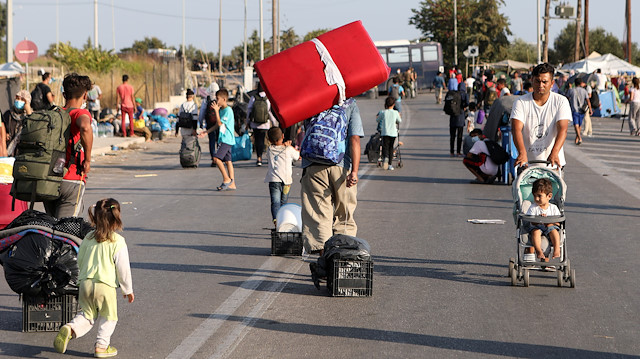 The European Commission proposed a new Pact on Migration and Asylum, focusing on returns, pre-entry checks, and partnership with third countries to prevent migration flows.
The proposal is "a fair balance of responsibility and solidarity among member states," European Commission President Ursula von der Leyen told the press.
The new reform package will help the bloc to "move away from ad-hoc solutions" by setting a "predictable and reliable migration scene", according to the top EU official.
Under the new system, the national authorities and EU agencies would carry out pre-entry screenings at the bloc's external borders, providing a quick preliminary decision if the asylum application could be accepted or the asylum-seeker needs to return.
The border procedure would involve a health and a security check, fingerprinting, and registration in the EU's asylum fingerprint database.
To help the work of national authorities and strengthen the security at borders, the EU will raise the number of the staff at the European Border and Coast Guard Agency from 2021.
The plan also wants to strengthen the EU's returns system by harmonizing the legal framework of expelling failed asylum-seekers and expand the role of EU authorities in the procedure.
With the aim to resolve the long-standing debate between EU states on the relocation of asylum-seekers, the draft imposes mandatory solidarity with options for migration management.
Those who refuse to accept migrants from over-burdened border states could, for example, take over the responsibility to return people whose claim was denied or provide other forms of operational support.
This idea of "flexible solidarity" might be the key to gain the support of Central European countries -- mostly Hungary, the Czech Republic, Austria, Slovakia, and Poland -- who have been blocking the reform of the EU asylum and migration system since 2015 by categorically rejecting to "resettle migrants".
However, the relocation of asylum-seekers has always meant -- and even in its current form does so -- to take over the responsibility from the overwhelmed border state authorities to carry out the asylum procedures. At the end of the decision-making process, the EU states can judge if the applicant has the right for international protection or has to leave the EU.
The EU also seeks to cooperate better with neighboring countries by setting up re-admission agreements, pathways to apply for EU visa, and fighting against people-smugglers.
EU interior ministers are expected to start negotiations on the proposal at their next meeting in October.
The German presidency of the Council of the EU hopes to find an agreement among member states on the reform package before the end of the year.