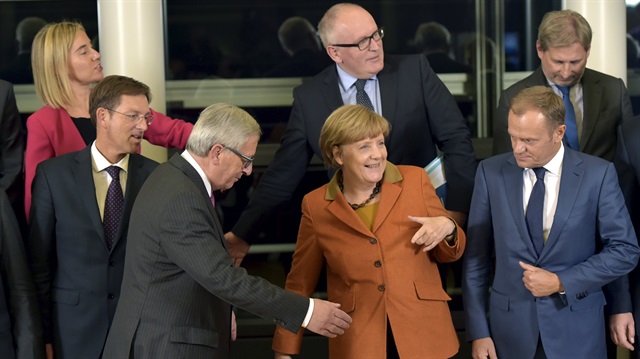 Officials of the European Union (EU) and German Chancellor Angela Merkel will travel to the Turkish border province of Gaziantep on April 23 to visit refugee camps there.
The visit will be held within the framework of the EU-Turkey deal to manage the refugee crisis in the region.
Since the Turkey-EU deal went into effect last month with the intention of stopping the refugee influx into Europe, illegal migration to European territory on the Greek Islands has decreased dramatically.
The EU president's office announced that during next week's visit, Merkel will lead a delegation of senior European leaders including EU President Donald Tusk and European Commission Vice President Frans Timmermans.
The office said the trip would be a "follow-up" to the EU-Turkey deal, as the EU will publish the final report on visa-free travel for Turkish citizens in the first week of May.
The EU and Turkey reached an agreement in March to address the worst migration crisis that Europe has seen since World War II, with EU countries tightening checks on the migration flow and setting up reinforcements to their borders to try to cope with the waves of migrants and refugees.
According to the EU-Turkey agreement signed in March, all refugees who arrive in Greece via Turkey will be sent back to Turkey. In return for each Syrian refugee arriving in Turkey, European countries will receive the same number of Syrian refugees from camps in Turkey.
Moreover, Turkey is to receive benefits including visa-free travel for its citizens to the EU's Schengen zone, which in the accord is promised at the latest by June 2016. It will also receive a total of 6 billion euros up to the end of 2018 to spend on meeting Syrian refugees' needs in Turkey.
The first installment of the promised money is expected to be released after next week's visit.
Another EU delegation of eight officials will later fly to Turkey to participate an EU-Turkey high level cooperation meeting.
A two-day Turkey-EU mini-summit will be held in Istanbul and Ankara between March 25 and 26 where European Johannes Hahn, Commissioner for Neighborhood Policy & Enlargement Negotiations, Pierre Moscovici, Commissioner for Economic and Financial Affairs, Cecilia Malmström, European Commissioner for Trade, Margrethe Vestager, Commissioner for Competition, and Carlos Moedas, Commissioner for Science and Technology will meet with Turkish ministers.
Both meetings are important for the future of the EU-Turkey deal as Turkey is expected to have a visa-free agreement earlier this summer.
8 years ago