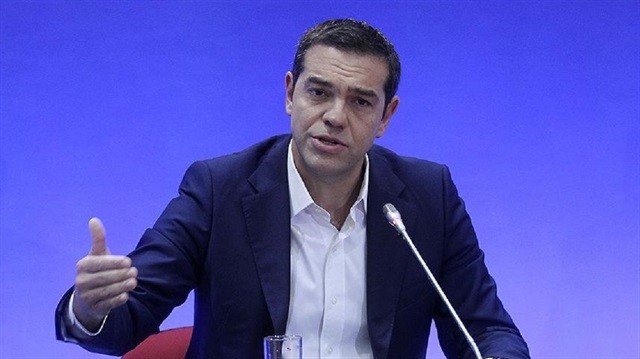 European institutions and leaders, particularly Germany, must stop taking decisions "behind closed doors", Greek prime minister told the French daily Le Figaro on Friday.
"European institutions must become more democratic. We can no longer make all the decisions behind closed doors," Alexis Tsipras said.
He continued: "Europe cannot be a forum for discussions of technocrats or political leaders where in the end, the most powerful and convincing imposes its decision, as for example is the case with Germany."
The Greek leader also said: "Europe cannot move forward with chauvinism and nationalism. We must both protect and share our sovereignty."
Tsipras, who held talks with French President Emmanuel Macron earlier on Friday, said despite the difference of opinions and ideologies between the two leaders they still shared "the same vision and the same convictions".
"Emmanuel Macron is pro-European, we are all pro-Europeans. On some points, it follows a different trajectory than mine but I respect his opinions."
For Tsipras, Macron's presence at the European Council "is an opportunity to take courageous decisions to deepen Europe."
Greek economy
Regarding Greek economic crisis, Tsipras said Greece's "adventure" will end in August 2018.
"For the first time I think it is no longer a dream," he said. "When I was elected for the first time in January 2015 with the will of the people, it was a clear direction of change for Greece and Europe."
Tsipras said two years after the hard bailout negotiations, the growth has returned to 2 percent of GDP and it is expected to reach 2.5 percent in 2018, while at the same time reducing social injustices.
When asked about the increase of China's investments in his country and how it is considered in France, the premier responded: "In recent years, Europe has had a priority to impose a punishment and austerity on the Greeks. There was no question about investing. For others, Greece was very attractive, and the Chinese took the opportunity to invest. As we know, whoever takes risks can succeed."
To a question on migrants and refugees, he said he is proud of the living conditions provided to 60,000 refugees in mainland Greece, but expressed concern over problems being faced by those staying in the Aegean islands.
"Our islands have taken the weight of all of Europe. This refugee crisis was the biggest since World War II," he said.
Tsipras added the EU-Turkey agreement "is difficult but necessary [that] helped to put an end to the horror of daily deaths in the Aegean."
During his visit to Paris, the Greek premier received on Thursday the Political Courage Prize from the magazine Politique Internationale and the European Commitment Prize from the Paris bar association.