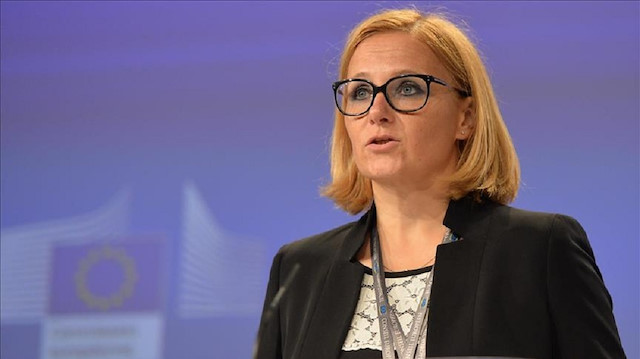 The EU on Thursday reiterated its call on Russia to "immediately and unconditionally" release two dozen Ukrainian sailors captured last November.
In a written statement, Maja Kocijancic, spokesperson for foreign affairs and security policy/European neighborhood policy and enlargement negotiations, said:
"We expect Russia to immediately and unconditionally release the 24 captured Ukrainian sailors, to respect their right to legal representation and unhindered access by consular authorities, and to ensure that the injured crewmen receive appropriate medical treatment."
The Ukrainian servicemen have been held since last Nov. 25, "when Russia seized three Ukrainian vessels and their crews and fired shots at them, wounding several Ukrainian servicemen, near the Kerch Strait," she recounted.
"As we have repeatedly said, we expect Russia to ensure unhindered and free passage through the Kerch Strait to and from the Azov Sea, in accordance with international law. Further, this use of force by Russia is unacceptable," the statement added.
Russia had said the vessels ignored calls to stop at the border, sparking military action.
The Ukrainian Navy earlier accused Russia of opening fire on its warships off Crimea, asserting that the crew members were wounded and its vessels were seized by Russia.
The incident exacerbated bilateral tensions, already high in the wake of Russia's illegal annexation of Ukraine's Crimean peninsula in 2014 -- a move not recognized by either Turkey or the UN -- as well as unrest on Ukraine's eastern border with Russia.