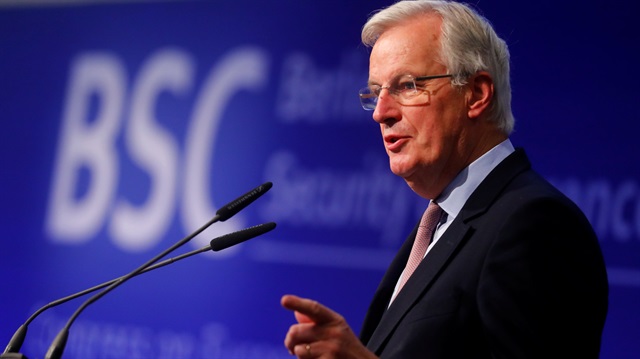 The British government has just 48 hours to agree a deal to move Brexit talks to second phase, the EU's chief negotiator Michel Barnier said Thursday.
Barnier told EU member states if Britain does not reach an agreement on a text on a potential deal in the next two days, negotiators will not be moving to further stages where the future relations between the U.K. and EU will be shaped.
The biggest political party in Northern Ireland, the Democratic Unionist Party (DUP), on Monday blocked a possible deal to move onto the second phase of negotiations between the U.K. and EU, a deal meant to solve the Irish border issue with a "regulatory alignment" of the U.K. region with the EU.
DUP leader Arlene Foster rejected the deal during a news conference while Prime Minister Theresa May was in a meeting with European Commission President Jean-Claude Juncker in Brussels.
Foster, after the main principles of the deal were leaked by some members of the European Parliament, refused the agreement, rejecting any suggestion of concessions to keep Northern Ireland close to EU trade rules to avoid the return of a hard border with the Republic of Ireland.
The EU's remaining 27 member states will decide whether enough progress has been achieved in Brexit talks to move them to the second phase in a mid-December summit in Brussels.
British prime minister May was in Brussels on Monday to reach an agreement for the future arrangements on the Irish border -- one of the key points in the Brexit talks.
May returned to London after the announcement of a deal to move forward was delayed and held a Cabinet meeting Tuesday morning. She said they will reconvene and remained hopeful on reaching a deal this week.
She aims to rescue the deal needed to persuade Ireland and the other remaining EU nations at a summit next week that "sufficient progress" has been made on separation issues to move Brexit negotiations onto the future trading relations.
The DUP so far says it will not accept any agreement that would treat Northern Ireland differently from the rest of the U.K.
Ireland has said it requires a guarantee there would be no hard border between itself and Northern Ireland in the post Brexit era.
Meanwhile, British Foreign Secretary Boris Johnson said in a speech in London the negotiations should move to the second phase.
"We need to get going, franchement [frankly], with the second part of the talks," he said. "That's the exciting bit. That's the bit where we will achieve a new trading relationship with our friends and partners."
He said: "We can get it done, we just need to get on with it, and I hope very much that the December European Council will mark that progress."
The U.K. is set to leave the EU in March 2019, ending its 44-year partnership with the bloc.