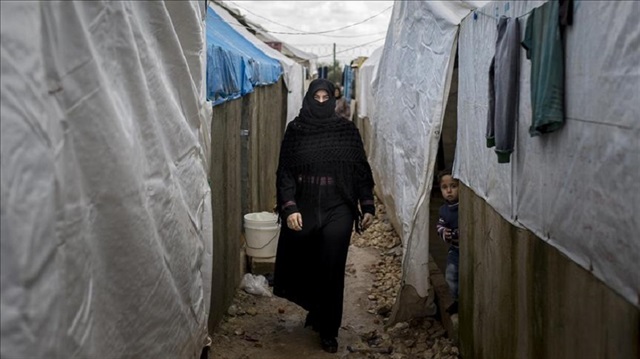 Women who were illegally held in the Assad regime's prisons in Syria, where they were subjected to torture and rape, told Anadolu Agency about their sufferings and the horrors they witnessed.
Women are among the biggest victims of the civil war in Syria, which is still raging on in its seventh year.
According to detentions recorded by the Syrian Network for Human Rights (SNHR), at least 8,633 women are being held in various detention centers belonging to the conflicting parties.
At least 7,009 of them are held without trial in prisons that belong to the Assad regime.
The SNHR data reports that regime forces are responsible for a total of 7,699 rape cases involving at least 864 women and at least 432 under-age girls held in detention centers.
However, it is known that the actual number of women raped in detention is much larger than these figures.
This is because most of the arrests are carried out without being recorded and rape victims are forced to remain silent.
'9th grader raped by 6 people in front of everyone'
Um Mohammad, who lives in the Eastern Ghouta region of Damascus, said while she was going to work one morning in 2012, having covered even her face with her headscarf, regime forces forced her into a car, took her to a detention center, and beat her.
After being interrogated three times and being placed in a room with seven other female detainees, Mohammed said her headscarf was forcefully taken off.
"You could read on everyone's face in the room that they were being exposed to torture. There was a girl in the 9th grade. She was raped by six people in front of everyone. The girl was from a very religious family. Then they took her elsewhere but she never came back. If she were alive, she would have come back," Mohammad said.
'Even a 55-year-old woman was raped'
Um Mohammad said she resisted when they vilolently pulled off her headscarf. "For this very reason, I was tortured. I was raped in front of everybody. Even a 55-year-old woman was raped."
Five or six days after she was arrested, Mohammad said she was placed in solitary confinement, spent about two and a half months with little bread and some cheese given to her every 10 days. She got severely sick and her nervous system collapsed because of what she endured.
Mohammad related that a heavily-built person would come in her cell and beat her until she passed out.
"There was someone else in my situation. She was a teacher in her 30s. She was tortured more severely than I was."
'You go in with your dignity, but you come out stripped of it'
Emphasizing that all women held in the Assad regime's prisons were subjected to rape and harrassment, Mohammad said, "You go in with your dignity, but you cannot leave with your dignity intact. Women were raped and tortured multiple times. I was being kept in a cell but I could hear people screaming and shouting because of torture and persecution. Their voices continue to ring in my ears, my head. It is impossible to forget."
Mohammad said after she got out of prison, her unjust treatment continued. Her family rejected her, and she married a cousin but was divorced by him after he found out that she had been raped.
'I fell every time they hit me, but they would pull me up and beat again'
Sayha Al-Barudaya, a mother of two who was exposed to torture in a regime prison, was detained at a checkpoint on her way to the Lebanese capital Beirut with her husband.
Barudaya stated that she was arrested for keeping his husband's hunting license in her bag. She said she was interrogated and tortured for four hours at the detention center on charges of "aiding and abetting terror".
Barudaya said, "I fell every time they hit me, but they would pull me up and hit me again repeatedly. After all this, I was again questioned at the military unit. After that, they handcuffed me from the back and blindfolded as well, and threw me into a cell. After 48 hours, they opened the door and threw a slice of bread and three olives."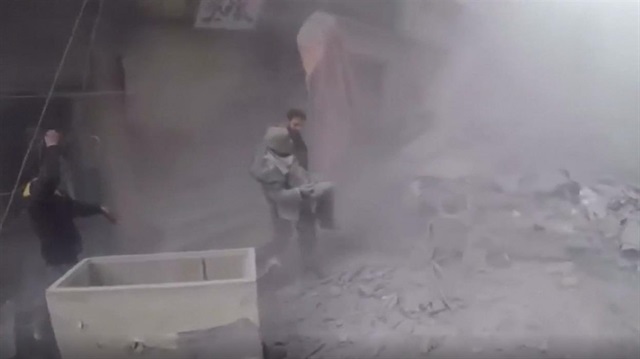 Two options under heavy duress: admit to crimes not committed or continue resisting
Barudaya, a former resident of Hama, said because of the shock caused by the tortures, one had to admit to all the crimes imputed to oneself or continue resisting.
"I chose to resist and swore to resist whether I'd be released or kept in detention. I was a volunteer at the Red Crescent. I would help every wounded or needy person regardless of who they were. But these tyrants accused us of helping terror," Barudaya said.
She said there were three more women in the room where she was held, and they were accused of crimes similar to hers.
"The person who interrogated me for eight hours with my eyes blindfolded, hands cuffed, and legs tied was nearly my child's age," she added.
'Walking corpses with bones protruding all over because of starvation, bodies aged from beatings'
Explaining that her headscarf was removed and the upper part of her body was exposed and beaten in the interrogation, Barudaya said when she rejected the accusations, she was taken into a room with ankle-high water on the floor and hung to the ceiling from her handcuffs tied from behind.
"They tortured me in various ways. When I passed out, they would electrocute me through the water on the ground to bring me round. We -- 66 people in total -- were transferred to the Homs central prison. They kept us in the same ward with those being prosecuted for drug-related crimes, rape and murder. Watching 18-year-old girls, survivors of the Baniyas massacre, being held in prison as if they were criminals severely traumatized me. That made me conclude that all women in Syria were in detention."
"They were like walking corpses with bones protruding all over because of starvation; bodies aged from the beatings," Barudaya said of the people she saw were being tortured in the Banon prison, where she had been transferred from Homs.
'I could only smell death and corpses'
Barudaya said when she was transferred to the Palestinian ward in the Banon prison, the presence of Iranian Shiites grabbed her attention. "I could only smell death and corpses when I walked down the stairs to get to my ward. There was the heavy stench of death in every room."
She said she was put in a ward with 43 other women, and there was no ventilation although some of the inmates were suffering from various infections.
"They approached me as if I had been sent from on high as their savior and asked me what was happening outside. They were excited and agitated as though the Assad regime would be destroyed the next day and they would be set free."
She said they gave one boiled potato for four prisoners to share after three days without food.
"I was given no 'helpings' because my name was not on the list. The women next to me, however, shared theirs with me. The potatoes they shared with me despite the great difficulties we were all in made me cry, which kind of relieved me. We would not be able to sleep because of the groaning of the young inmates that would start especially after 9 p.m. We would be taken out for 15-minute breaks at 9 a.m. and 5 p.m.," Barudaya said.
'Corpses being dragged with IV-attached hands hanging out of sheets they were wrapped in'
Barudaya told Anadolu Agency how they witnessed the As Sabaat units (of the regime forces), in charge of cleaning the interrogation hallways, carried off the corpses:
"One of our friends contracted a urinary tract disease and had to pay frequent visits to the toilet. One time, they allowed us to take her to the toilet, but they told us to stay in there. We forgot the order and came out. We saw As-Sabaat carrying off corpses wrapped in sheets. We saw corpses being dragged with their iv-attached hands hanging out of the sheets. It was like time stood still..."
Barudaya said she was acquitted two weeks after being transferred to the Adra prison.
'Shabiha militias dragged me on the ground in front of the entire neighborhood after exposing my hair and upper body'
Maryam from Homs, 24, a mother of four, is one of the so many women who were raped and tortured in the prisons of the Assad regime.
At the beginning of the civil war, Maryam said she participated in demonstrations led by her two cousins in Hama. After the regime resorted to violence, the demonstrating group opened a field hospital and Maryam volunteered to work there.
Maryam said when the regime forces entered Hama, they were denounced by an Assad informer working in the hospital.
"My husband was an official in the Directorate of Agriculture and Stockbreeding. They caught him and asked about me during the interrogation. When my husband told them I was his wife, they tried to extort information from him. Meanwhile, my friends told me to run away, but I had missed my children very much. I came to my parents' house at 6:00 in the morning when the regime was trying to suppress the demonstrations in Hama," she said.
The regime forces suddenly barged through their door and raided the house just as Maryam was hugging her children, trying to fulfilling their longing. She said they grabbed her four-year-old daughter and asked her "Where is your mother?" while violently shaking her.
"My daughter wet herself that day. She has been unable to hold her bladder since that day. The Shabiha militias started dragging me on the ground in front of the entire neighborhood after exposing my hair and upper body. I was forced into an armored vehicle and saw that there were four other young girls there with me," Maryam said.
She went on to say, "Where they took us, they started yelling, 'The terrorists are here!' We entered the room of a commander named Sulaiman. He was eating peanuts and cursing our pride and honor at the same time. Since that day, I have neither bought nor eaten peanuts. In prison, they took our photographs with number plates. Mine was 581 or 518. Also, the concept that 'Women are frisked by female police officers' is a complete lie. A male soldier frisked me after undressing me. That cut me to the bone."
'The front side was office, the back was a raping room. I would beseech, 'Don't do this for Allah's sake!' He would say 'There is no Allah' "
Maryam said there was only a single bed in the interrogation room.
"There was no end to their tortures. You can't imagine what would after midnight. Commander Sulaiman chose the prettiest girls and took them to his room. There were two rooms in his office. The front was the office, and the back was a raping room. I would beseech him, saying 'Don't do this for Allah's sake'. He would say 'There is no Allah'. I would say 'for the sake of the prophet!' He would say, 'He's on leave'. He would ask disgusting questions such as, 'Who is tastier; the Free Syrian Army guys or us?'
"One of the girls they raped became pregnant. She continued to be raped while she was pregnant. She went into labor in the sixth month. They shot her child in front of her. That girl went insane. Now her parents have to tie her with ropes to contain her. One of my friends was in her third year in the medical school. She was single. She was raped, too. There was a young man named Ahmad from the Safira region. He would cry bitterly when he heard our cries. Torture every morning, rape in the evening. Nobody cared, nobody heard. What was our crime? We helped the injured. We sent food to families under siege."
'I only call on our father Recep Tayyip Erdoğan'
Maryam said she underwent a terrible shock after getting out of prison when she found out that the whole society insulted and shunned them because they had been raped.
"We had expected to be met with smiles and greetings though… Now I'm unable to do even grocery shopping."
Maryam said her husband divorced her, her whole family turned away from her, and they did not even answer her phone calls on religious festivals, and her brother had even threatened to kill her.
Despite her own ordeals, Maryam said she was worried about her friends still kept in detention.
"They should not be forgotten. I only call on our father Recep Tayyip Erdoğan to make our voices heard. We have tried to reach everyone: the U.S., human rights organizations… but to no avail. Erdoğan should extend a helping hand to the women who were released after being held."