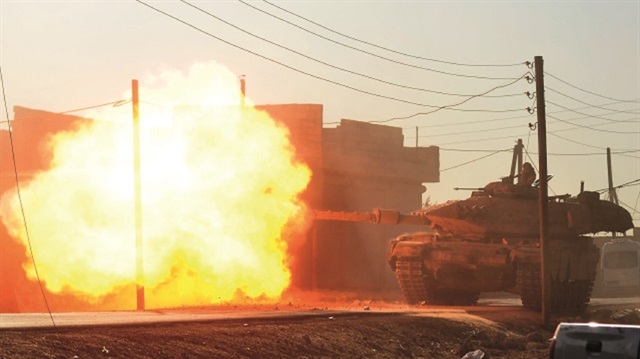 Last preparations for Afrin
The Turkish Armed Forces' operation plans aimed at Afrin have been sped up with the increase in Kurdistan Workers' Party's (PKK) harassing against regions rescued from the terrorist organization Daesh within the scope of Euphrates Shield Operation. The recent intense participation of the PKK in the region led Turkey to consider this region as a national security threat. As the military intensity at the border peaks, the preparations at Turkish Armed Forces' bases in Syria are at their final phase.
The Afrin plan, which the Turkish Armed Forces is working on, is being finalized. The operation which is designed to be carried out with the Free Syrian Army (FSA) groups will start from Azaz, Kaljibrin and Mare, and proceed eastwards in the regions occupied by the terrorist organization PKK/PYD. Turkish soldiers and the FSA will primarily seize control of Tell Rifaat and Menagh Military Airbase in the first phase of the operation. Severe clashes are expected around these two targets, located in a quite strategic point in terms of the region. The Menagh Airbase, which is 7 km away from Azaz, and 15 km away from Afrin, was occupied by the PKK in February.
PKK AND DAESH'S JOINT BLOCKADE
Tell Rifaat, which is amongst the Turkish Armed Forces' priority targets, may be considered as the door to Afrin. Holding a significant number of opposition, Tell Rifaat was besieged by Daesh and the PKK last year, and opposition members had to surrender the province to the PKK in order to rescue civilians.
The Turkish Armed Forces and FSA, which plan to move 7 km eastwards after controlling these areas, also plan to occupy Meryemeyn. No information has been provided yet if the operation forces will enter Afrin or not. It has been indicated that the operation will cease 5 km away from Afrin, and the PKK terrorists in the city may be isolated. Moreover, humanitarian aid convoys will be sent to Afrin for the civilians in the city, following Turkey's control over the city.
THOSE SUPPORTED BY THE CIA ARE EXCLUDED
There is no precise information on which FSA elements will participate in the Afrin operation with the Turkish Armed Forces. FSA sources stated that some of the groups which participated in the first Euphrates Shield Operation might not be accepted to Afrin Operation due to their organic links to the United States. Some of these groups are supported by the Pentagon or CIA.
#
Euphrates Shield Operation
6 years ago